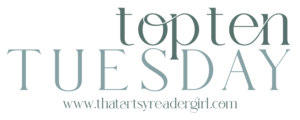 Hosted by That Artsy Reader Girl
If you ask me, this is one of the best topics that was ever submitted to Top Ten Tuesday!
Bravo to Lisa of Hopewell for coming up with it. You have a wonderful mind, and I'm so glad Jana chose your idea.
It is about time that books from the 21st century begin to be sorted into various classics lists. I used the plural form because I don't know that there should ever be one single list that everyone reads or even agrees is the best of the best.
What I find emotionally engaging and appealing might not be necessarily the same list of books that someone else picks for a wide variety of reasons. We all have different tastes and previous life experiences that influence which books leave a lasting impact on it.
Honestly, there are certain books from the lists of classics from earlier centuries that I have never been able to get into, but of course not everyone agrees with my opinions of those books.
With all of that being said, here are some books from this century that I think will be remembered fondly for many years to come.
1.Snow Flower and the Secret Fan by Lisa See
Why: It was an immersive story that followed the same group of characters for decades as they matured. The plot itself was also quite interesting, and I could see it being taught in schools.
2. Coraline by Neil Gaiman
Why: Neil Gaiman is an amazingly nuanced storyteller who sneaks all sorts of deep themes into his works that you might otherwise expect to be simple entertainment.
3. The Brief Wondrous Life of Oscar Wao by Junot Díaz
Why: To be honest, it's been so long since I read this book that I've forgotten many of the plot twists. What I do remember is being astonished by how many layers the author fit into the short life of his main character. That takes skill, and it makes this something I should reread again soon.
4. Oryx and Crake (MaddAddam, #1) by Margaret Atwood
Why: This almost read like it was half of a conversation with an unseen companion who had strong opinions about the world that the author only partially agreed with. Ms. Atwood also had some astute observations to make about 21st century life that I think will appeal to future generations quite a bit.
5. Still Alice by Lisa Genova
Why: It had such a sympathetic portrayal of someone who had Alzheimer's Disease and no hope for a cure. I've read other books on similar topics from previous centuries. You can learn so much about a society by looking at how people with incurable illnesses are treated as well as how they react to the news that they've reached the end of what medicine and science can offer to them.
6. Little Bee by Chris Cleave
Why: The gorgeous writing makes this a modern classic in my opinion! Do not spoil the storyline for yourself by looking up spoilers in advance. The less you know about it beforehand, the better in my opinion.
7. Half of a Yellow Sun by Chimamanda Ngozi Adichie
Why: This was a challenging read for sure given the many references to war and political upheaval, but it was well worth sticking it out with the characters to see what became of them.
I look forward to see which books everyone else picked! I wonder how much crossover there will be on our lists?