Hosted by That Artsy Reader Girl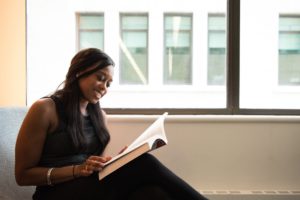 Last week I unfortunately didn't have time to leave comments on everyone's Top Ten Tuesday posts. Thank you to all of you who commented on mine! I'll be back to my regular commenting habits again this week.
I'm a frugal, minimalistic, and environmentally conscious person, so this week's list is going to be pretty short. The vast majority of the authors I enjoy are people I can wait to read until the library has a copy of their newest book waiting for me or until I can get it in e-book form.
(If all writers were immortal, this list would be much longer! Sadly, many of my all-time favourite ones are no longer around to give us new stories).
To be perfectly clear, in no way do I judge what others do. These restrictions are ones I only place on myself because of how much I value being mindful about the resources I use. Buying paper books is a better decision for some people for any number of reasons, and I completely respect that.
With that being said, I find it hard to say no to the following authors. Click on their names to go to the Goodreads lists of their books or keep reading to discover why I enjoy them so much.
Most of her books are set in the Victorian era and feature queer women as the main characters. They are richly detailed stories that I read over and over again. She produces new stories so infrequently and I adore her writing style so much that I immediately buy whatever it is she comes up with.
In my opinion, Margaret Atwood is the best living novelist here in Canada. Most of what she writes is speculative fiction, although she has branched out to other genres on occasion. Right now I'm impatiently counting down the days until the release of her next book, The Testaments, this September because it's a long-awaited sequel to The Handmaid's Tale and I can't wait to see what it will be like.
Who else had a short list this week? Are any of my followers also into being frugal, minimalistic, and/or eco-friendly? If so, I'd love to know how you balance those ideals with keeping on top of your reading habits…other than regularly visiting the library, of course!