Hosted by Long and Short Reviews.
I'm guessing that a lot of people are going to pick the Potterverse, Narnia, and the (safe) portions of Middle Earth this week. Count me in for those places, too, but I'm going to spend most of this post talking about worlds that may not get as much attention this week if my predictions are correct.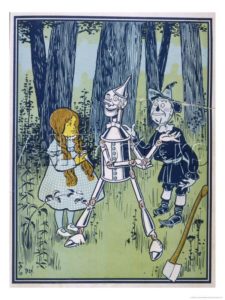 The Land of Oz.
Something tells me all of you will catch this reference immediately. I'm the sort of person who senses danger early on, so I'd like to think I could visit Oz without running into any of the witches or other dangerous folks there. It would be so cool to see the yellow brick road in person and meet some munchkins.
The Gatsby Mansion from F. Scott Fitzgerald's "The Great Gatsby"
While I'm not actually a fan of this story in general, I do think attending one of the parties at the Gatsby Mansion would be a marvellous way to pass a warm summer evening. The one good thing I can say about the Gatsby family is that they sure did seem to know how to throw a party!
In my imagination, every morsel of food and drink there would have been delectable and the live music would keep everyone dancing until the wee hours of the morning.
Pandora from the 2009 film "Avatar" 
Simple things like spending time in nature and exploring new places makes me happy. I'd love to go explore the bright, colourful world that the main character of "Avatar" got to know so well during his stay there. The fact that so many of the creatures there were bioluminescent only makes me more eager to see them for myself!
Pemberly From Jane Austen's "Pride and Prejudice"
Once again, I was not a fan of the novel where this fictional country estate is from, but that wouldn't keep me from wanting to visit Pemberly anyway. I value spending time in nature, eating delicious food, dancing, and having some peace and quiet at times. Based on the descriptions of this place, I think I could do all of that stuff with ease there.
Jurassic World (but only after the dinosaurs stopped attacking people)
Honestly, how could you not want to see real live dinosaurs in person? I'd definitely wait until all of the safety concerns had been ironed out, and I'd avoid the Tyrannosaurus area in general. I'd be thrilled to see some Triceratops, Gallimimus, Velociraptors, and other species in person once those precautions had been taken.
How about all of you?
Click here to read everyone else's replies to this week's question. The image below is the list of upcoming prompts for this blog hop.