Hosted by That Artsy Reader Girl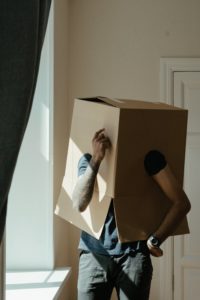 I asked the Internet to give me stock photos related to the word question, and it delivered someone wearing a cardboard box over their head. They're tapping the side of the box with one hand while making a quizzical gesture with their other arm.
I can't stop giggling at this image and hope you all find it amusing as well. The internet really is full of surprises, isn't it?
Let's move on to the list.
1. What's the Use of Walking If There's a Freight Train Going Your Way?: Black Hoboes & Their Songs
by Paul Garon
2. Is Everyone Hanging Out Without Me? by Mindy Kaling
3. How Do Witches Fly?: A Practical Approach to Nocturnal Flights by Alexander Kuklin
4. What Killed Jane Austen?: And Other Medical Mysteries by George Biro
5. Where's Waldo? The Fantastic Journey by Martin Handford
6. Who Is Santa Claus?: The True Story Behind a Living Legend by Robin Crichton
7. Who Do You Think You Are? by Alice Munro
8. Do Androids Dream of Electric Sheep? (Blade Runner, #1) by Philip K. Dick
9. Who's Afraid of Virginia Woolf? by Edward Albee
10. Did She Kill Him?: A Victorian Tale of Deception, Adultery and Arsenic by Kate Colquhoun