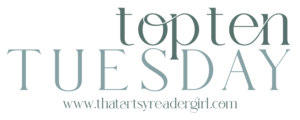 Hosted by That Artsy Reader Girl
This prompt was shared on October 6, 2015. I wasn't aware of Top Ten Tuesday back then, so today I will reach back into time so I can borrow this idea and talk about bookish things I have quit doing.
Edit: Blogger/blogspot is once again being really finicky about letting me comment. A few of my comments are randomly going through, but most are being denied. I will keep trying but wanted to let everyone know what's going on.
1. Setting Lofty Reading Goals 
I purposefully pick reading goals involving pages or books finished that I can easily accomplish so that this hobby continues to feel fun for me. I never want to feel stressed out by how much I have (or haven't) been reading.
2. Giving Unsolicited Book Recommendations 
That is to say, I only give out recommendations to people who have either directly asked for one or who are close enough to me that I feel like I know their tastes in books quite well and who have told me it's okay to share books I think they might like.
I never gave out a lot of unsolicited book recommendations in the past, but now even those occasional recommendations feel a little too close to unsolicited advice to me.
I'd rather gush about the books I love and let others decide for themselves if they want to read them in the vast majority of cases.
3. Accepting Unsolicited Book Recommendations 
Likewise, I've also become more cautious about accepting unsolicited book recommendations unless the person giving them is in my inner circle and knows my tastes well.
There are so many books in this world and such limited time to find the best ones. I will listen politely, of course, but I will only actually read a recommendation if the blurb sounds right up my alley.
4. Reading (Most) Bestsellers 
My reading tastes so rarely coincide with the bestseller list that I generally pay it no mind at all when deciding what to read next. (This is no way a commentary on people who do like really popular stuff or the books themselves. It's simply an acknowledgement that I usually prefer other sorts of stories).
5. Entertaining Nonsense 
For example, I will stop reading a book if it promotes racist, sexist, homophobic, or other hateful beliefs.
(There's a difference between writing about a character who says those things and promoting the ideas themselves to the audience as something admirable. I will read about the former but not the latter).
I also shake my head and ignore advertising that assumes that your membership in a specific group should mean you like X but not Y instead of encouraging everyone read whatever appeals most to them. <glares at Instagram and the sometimes weirdly narrow little boxes their ads try to put people in>.