Hosted by That Artsy Reader Girl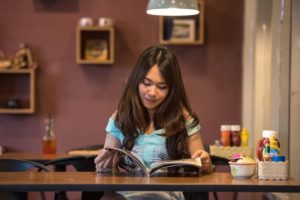 I struggled with this week's prompt, so my list is going to be shorter than usual. Coming up with snappy titles is something I have to work hard on, but I did come up with a few interesting ideas.
I'd change Jean M. Auel's The Land of Painted Caves to What Ayla Knew.
Why: The final book in the Earth's Children series turned out to be heavily centred on the main character's transition into a powerful member of her society once she arrived at the place she intended to spend the rest of her life. I wish the title had better reflected what actually happened to her.
I'd change F. Scott Fitzgerald's The Great Gatsby to Rich People's Problems.
Why: Since that what this book was about, why not be honest about it so you attract the right readers? *shrugs*
I'd Change Richard Adams' Watership Down to The Rabbit Chronicles
Why: This is something I put off reading for years. If I knew it was an adventure novel starring rabbits, I would have checked it out much sooner!
I'd Change Neil Gaiman's The Graveyard Book to Raised by the Dead. 
Why: The word play makes me smile. Normally, the dead are the ones being raised, and in a totally different context than a baby growing up in a cemetery.
I'd change J.R.R. Tolkien's The Silmarillion to Tales from the First Age
Why: The original title didn't capture my attention at all. I had no idea who or what a silmarillion was. It sounded like something math related, and I was totally uninterested in reading that sort of thing. At least my revised title gives hints about when these stories take place in the Lord of the Rings timeline.