Hosted by That Artsy Reader Girl
I have strong opinions about today's topic! All of these books would make amazing shows. I can only hope that Netflix will realize they need more content and pick them up.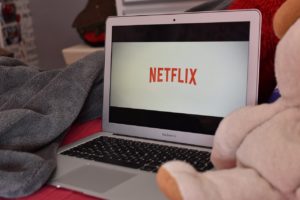 1.The Clan of the Cave Bear series by Jean M. Auel
Why: This series has everything – romance, adventure, history, science, and even a little science fiction.
It would also be amazing to see what current CGI would do with Neanderthals, mammoths, and other extinct species.
2. The Neanderthal Parallax series by Robert J. Sawyer
Why: The only thing cooler then seeing Neanderthals 30,000 years ago is imagining what they'd be like to day if they'd survived and we had been the ones to go extinct.
3. The Deep by Rivers Solomon 
Why: Now is the perfect time for a show about healing old wounds. As I said, the world building hinted at so many things that could be expanded upon. A TV show would create so much space for Ms. Solomon to explain Wanjinru society more clearly and show additional differences between it and other versions of mermaid tales that exist out there.
4. The Lost Ones by Anita Frank 
Why: Is there ever a bad time for a haunted house story? I think not. My review noted my frustration with some illogical choices the main character made. I otherwise liked her a lot and can't help but to wonder if her decisions would make more sense on the small screen since the era she lived in would be brought to life in ways that can be a little trickier in a book.
5. The Spellbound Spindle by Joy V. Spicer 
Why: I love the idea of having more feel-good fairy tales on Netflix. There were so many scenes in this book I couldn't talk about for spoiler reasons that would look amazing on a TV. Let's just say that the antagonists were very colourful characters, and their dialogue would make me laugh pretty hard if I heard it.
6. The Farm by Joanne Ramos 
Why: Surrogacy can be a complicated topic, especially in scifi novels like this one where surrogates are monitored so closely. The themes in this novel about how society thinks about women's bodies and how pregnancy can be commercialized are ones that could be dramatized nicely.
7. The Testaments (The Handmaid's Tale #2) by Margaret Atwood
Why: Okay, so technically I'm sure that some of the themes will be included in future seasons of The Handmaid's Tale, but I'd sure like to see to see a spinoff set years from now when all of the various plot lines have finally reached their climax. I enjoy The Handmaid's Tale, but I've also found past seasons to be really dark and heavy. It would be nice to see this world reach a peaceful resolution in the end.