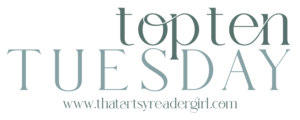 Hosted by That Artsy Reader Girl
Here's a quick and humorous story about adjectives before I dive into this week's prompt.
When I was in elementary school, our teacher had us write poems that needed to have a specific number of adjectives, adverbs, nouns, and other parts of speech in certain portions of the poem.
I was a little unsure about what made an adjective different from the other parts of speech, so I opened a nearby dictionary and selected words based in large part on what the dictionary said about which part of speech each one belonged to.
This is probably not exactly what my teacher was hoping we'd do, but I finished the project and technically followed all of the rules for it.
1. The Miraculous Journey of Edward Tulane by Kate DiCamillo
2. The House of the Seven Gables by Nathaniel Hawthorne
3. The Ballad of the Sad Cafe by Edward Albee
4. The Brief Wondrous Life of Oscar Wao by Junot Díaz
5. The Case of the Perfect Maid – a Miss Marple Short Story by Agatha Christie
6. The Diary of a Young Girl by Anne Frank
7. The Curious Case of Benjamin Button by F. Scott Fitzgerald
8. The Perilous Life of Jade Yeo by Zen Cho
9. The 7½ Deaths of Evelyn Hardcastle by Stuart Turton
10. The True Confessions of Charlotte Doyle by Avi