Hosted by That Artsy Reader Girl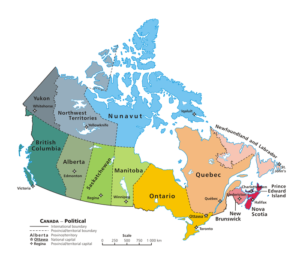 I chose Canadian literary events for this week's prompt because most of the bookish event and festival lists out there are heavily slanted towards the United States.
I think there's something to be said for shining the spotlight on other parts of the world, too.
Word on the Street, the first entry on this list, is something I've attended on numerous occasions in the past. It's a great deal of fun, and I can't recommend it highly enough to all of you no matter which genres you enjoy.
Everything else is still on my bucket list!
See the map at the beginning of this post if you need a refresher on Canadian geography as you read about all of these wonderful festivals. The provinces will be highlighted in red in the photos below for the festivals that always occur in the same provinces.
Location: Toronto,Ontario
Target Audience: Everyone
Why I Love It: It includes such a wonderful variety of books and authors for every age, genre, style, and demographic group you can imagine and maybe even a few you've never encountered before. The food there is incredible, too!
2. The Festival of Literary Diversity 
Location: Brampton, Ontario
Target Audience: Diverse authors and storytellers (and anyone who wants to read diverse books!)
Why I Want to Visit It: What's not to love about celebrating diversity in the bookish community? I really need to rent a car or hop on a train and take a road trip to this festival after we have a vaccine for Covid-19.
Location: Montreal, Quebec
Target Audience: Poets and anyone who loves poetry
Why I Want to Visit It: A well-written poem makes my heart sing.
4. Bloody Words
Location: Various Canadian cities (the location changes every year)
Target Audience: Mystery writers and readers
Why I Want to Visit It: I occasionally read mysteries and think it would be cool to learn more about this genre.
5. NorthWords Writers Festival Society
Location: Yellowknife, Northwest Territories
Target Audience: Aboriginal writers and anyone who is interested in reading their work
Why I Want to Visit It: Canada has an amazing literary community in general, and it includes many talented Aboriginal and First Nations authors. I'd be thrilled to attend a whole festival dedicated to their work.
Location: The Yukon Territory
Target Audience: Anyone who is part of Canadian literary scene in the Yukon or who wants to learn more about it.
Why I Want to Visit It: I must confess to not knowing a lot about the culture of the Yukon or what the literary scene is like up there. That's something I'd love to change someday.
Location: River John, Nova Scotia
Target Audience: Everyone who wants to read Canadian works
Why I Want to Visit It: It sounds like an all-Canadian version of Word on the Street. If that's true, this festival must be amazing!
Location: Newfoundland
Target Audience: Anyone who writes or reads stories set in this province
Why I Want to Visit It: I only know a little bit about the culture of or literary scene in Newfoundland and would like to change that.
Location: Vancouver, British Columbia
Target Audience: Anyone who writes or reads stories set in Vancouver
Why I Want to Visit It: I used to live in Vancouver. It's a beautiful, bookish city, and reading about it makes me feel like I'm back there.
10. Saskatchewan Festival Of Words
Location: Moose Jaw, Saskatchewan
Target Audience: Everyone who enjoys Canadian literature
Why I Want to Visit It: This festival lasts for four whole days! That alone is enough to make me eager to check it out.
Do any of you have other Canadian literary festivals to add to this list? I'd sure like to hear about them.