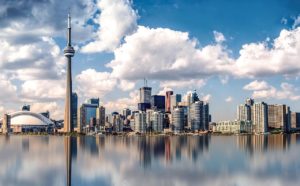 There are a few things about Canadian and, more specifically, Torontonian culture that I should explain here for anyone who isn't already familiar with them before diving into the meat of this post.
I am speaking in broad generalities here and this is a large, diverse country, so please make friendly allowances for that if your Canadian cousin/acquaintance/coworker etc. has had other experiences. There are no secret Canadian meetings where we come to a consensus on this stuff, and it's just about impossible to get 38 million folks to agree on everything anyways.
With that being said, people make less small talk here there than do in my birth country, the United States. It's good manners to nod and say hello to neighbours and other folks you've seen around before, but you generally don't talk to strangers unless you have an excellent reason to do so.
At least in large cities here, sidewalks are serious business. Locals walk briskly and single file unless the sidewalk is large enough for larger groups to walk side-by-side. Loitering should only be done in places where you won't slow down the flow of traffic, especially at lunchtime and in the early evening when the sidewalks are filled with nonstop crowds.
Tourists are the exceptions to these rules. If a stranger asks you for directions or advice on visiting your neighbourhood, you always stop and help them to the best of your ability. Sometimes a large group of tourists will walk slowly down the middle of the sidewalk while trying to figure out where to eat dinner or which attraction to visit next . This, too, is okay. Guests should always be treated with respect and kindness. Just turn the corner and take another street if you're truly in a rush. If not, slow down and savour the moment.
Now that you know a little bit about how things normally function in urban Canada, let's continue.
Toronto was eerily quiet in March and April when the Covid-19 lockdowns began. It's slowly grown more active again as our public health agencies have given our premier permission to reopen certain businesses and relax the quarantine and physical distancing rules.
Yet this still isn't like any July I've known in all my years here. Just like everywhere else, there are no tourists here.
The sidewalks by the busiest roads are beginning to fill up again, but they're much quieter than they should be. Some streets are still completely empty even at what should be the busiest portions of the weekend.
No one has asked me about good local restaurants and whether the trendy, expensive ones are worth the money. (Some are, but most aren't in my opinion unless you're a diehard foodie and Instagrammer. Let me direct you to an awesome hole-in-the-wall down the street instead if what you really want is a full, happy belly).
Nobody wants to know whether they should visit the Toronto Zoo or the Royal Ontario Museum. (They're both fun, but save the zoo for a day with nice weather when you're not planning to do much else at all. It's 90% outdoors, requires hours of walking to see it all, and really isn't close to any other major attractions at all).
People don't approach each other much at all these days. We generally keep our distance whenever possible for disease prevention reasons. With the exception of the occasional person asking for spare change, I can't remember the last time I spoke to a stranger.
In short, it's quiet here.