Hosted by That Artsy Reader Girl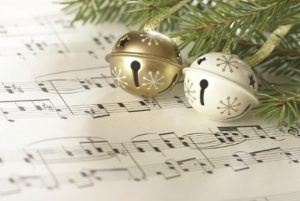 Oh, how I wish that all of these songs could be turned into books.
I added the genre each song seems like it would be best with. Click on their titles to hear any songs you might not be familiar with.
Feel free to add to this list in the comment section below if you think of other suggestions! I had so much fun with this post.
1. All I Want for Christmas Is You by Mariah Carey.
Genre: Romantic Comedy
2. Eight Candles by Malvina Reynolds
Genre: Historical Drama
3. Wizards in Winter by the Trans-Siberian Orchestra
Genre: Contemporary/Urban Fantasy
4. Feliz Navidad by José Feliciano
Genre: Sentimental Christmas Drama (for all ages)
5. Coldest Winter by Pentatonix
Genre: Romantic Contemporary/Urban Fantasy
6.Festivals of Light by Lauren Mayer
Genre: Nonfiction
7. Candy Cane Lane by Sia
Genre: Science Fiction and Fantasy
8. Baby, It's Cold Outside by John Legend and Kelly Clarkson
Genre: Satirical Romantic Comedy (adult audiences only)
9. Soma Loba by Manu Dibango
Genre: Nonfiction
10. I'll Be Home for Christmas by Frank Sinatra
Genre: Historical Drama
Happy holidays to everyone in the Top Ten Tuesday community!