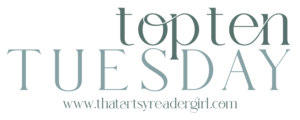 Hosted by That Artsy Reader Girl
These are all cozy stories from a variety of genres that I'd recommend to anyone looking for a comfort read.
My definition of a comfort read is a story that is compelling but gentle. That is to say, you can read it without worrying about anything horrible happening to the main character. They might break an ankle or temporarily get lost in a swamp, but everything will always end on a happy note and most of the scenes will be ones filled with conflicts that are lower stakes. Death or serious bodily harm are rarely a genuine threat for these characters. They are far more likely to be facing something like social embarrassment from saying the wrong thing or having a comical adventure instead.
1. The Rosie Project (Don Tillman, #1) by Graeme Simsion
2. Anne of Green Gables by L.M. Montgomery
3. The Art of Racing in the Rain by Garth Stein
4. Fried Green Tomatoes at the Whistle Stop Cafe by Fannie Flagg
5. Heidi by Johanna Spyri
6. The Phantom Tollbooth by Norton Juster
7. Little House in the Big Woods (Little House, #1) by Laura Ingalls Wilder
8. Good Omens: The Nice and Accurate Prophecies of Agnes Nutter, Witch by Terry Pratchett
9. The Wind in the Willows by Kenneth Grahame
10. The Princess Bride by William Goldman
What is your definition of a comfort read? am so curious to see how our understandings of that term might line up.