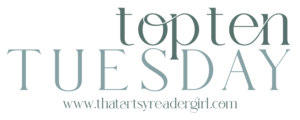 Hosted by That Artsy Reader Girl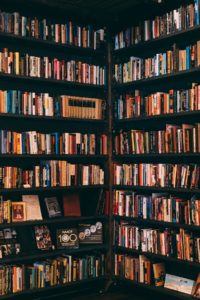 Sadly, Covid killed off some my favourite bookstores that I would have loved to include in this list, so I decided to pivot to fictional answers instead.
1.Women & Women First from the television show Portlandia 
Why I'd Want to Visit: the owners were humorous and memorable characters. I loved seeing the absurd lengths they took some of their beliefs.
2. Mr. Penumbra's 24-Hour Bookstore from  the novel Mr. Penumbra's 24-Hour Bookstore by Robin Sloan
Why I'd Want to Visit: It has ties to a secret society. What could be cooler than that?
3. The Travel Book Company from the film Notting Hill 
Why I'd Want to Visit: I'd forgotten travel books were ever a thing! It would be interesting to see an entire store dedicated to them.
4. The Village Bookstore from the film Beauty and the Beast 
Why I'd Want to Visit: Beauty and the Beast was set in the 1740s. I don't know what the literary trends were back then, so I'd be curious to see what sorts of books were available to average citizens.
5. The Android's Dungeon & Baseball Card Shop from the television show The Simpsons 
Why I'd Want to Visit: It seems pretty similar to real-life comic book stores (wacky Simpsons physics and logic and such aside), but it would be cool to make comparisons.
6. The Magic Box from the television show Buffy the Vampire Slayer
Why I'd Want to Visit: To see what they had to offer. I wouldn't touch anything, and I'd make sure I was safely back home before dark when the vampires and other monsters started causing trouble.
7. A. Z. Fell and Company From the novel Good Omens by Terry Pratchett
Why I'd Want to Visit: Because Aziraphale had invited me to stop by. It would be neat to see what sorts of things he'd collected over the millennia. Other than that, it seems like the sort of place best avoided due to how much it bothered him to have visitors at the private collection of materials he kept there.