Hosted by That Artsy Reader Girl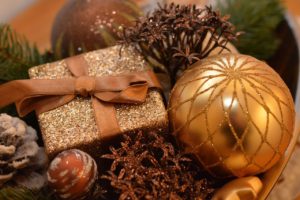 While I don't really celebrate any winter holidays with anything other than a nice meal, I still enjoy reading books about or set in this part of the year.
1. Yuletide Tales A Festive Collective by Peter John
I've never seen such a diverse assortment of stories related to Christmas. The references to the horror genre in the blurb are particularly interesting.
2. The Gift of the Magi by O. Henry
One of my favourite Language Arts teachers assigned this story to us when I was a teenager. I've loved it ever since.
3. The Stupidest Angel: A Heartwarming Tale of Christmas Terror (Pine Cove, #3) by Christopher Moore
How can anyone read this title and not want to find out what happens next?
4. A Christmas Story by Jean Shepherd
How did I just now find out that this is a novel as well as a classic Christmas movie?
5. Yule: A Celebration of Light and Warmth by Dorothy Morrison
There's something fascinating to me about learning where the various winter holiday traditions started.
6. The Snow Queen by Hans Christian Andersen
I was obsessed with Mr. Andersen's stories when I was a child. He was the person who introduced me to many of my favourite classic fairytales and legends!
7. The Cat Who Ate Christmas by Lil Chase
This is another one of those titles that is completely irresistible to me.