Hosted by That Artsy Reader Girl
This week is a Freebie week for Top Ten Tuesday, and it took me ages to decide what to write for it.
There are so many books out there that I'd like to read but haven't gotten around to yet. Today, I'm narrowing my focus to those titles that are about LGBT+ characters because I haven't been doing a good job of keeping up with these stories. There are a lot of good ones that have been published recently!
1. Mostly Dead Things by Kristen Arnett
I knew someone whose parent committed suicide when we were in middle school. That experience drew me to this plot even more than the queer content.
2. Like a Love Story by Abdi Nazemian
I can't imagine how frightening it must have been to realize you were gay during the height of the AIDS epidemic in the 1980s. Wow!
3. The History of Living Forever by Jake Wolff
The Elixir of Life is something I never grow tired of reading about. It will be interesting to see how these characters react to the thought of possibly living forever.
4. The Summer Demands by Deborah Shapiro.
It's rare that a romance novel catches my attention, but the summer camp setting and adult protagonists of this one are unique enough that I'm curious to read it.
5. The Girl in Red by Christina Henry
A dystopian retelling of Little Red Riding Hood? Sign me up, please!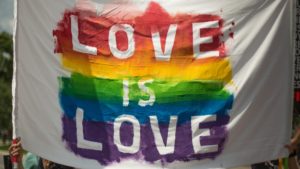 6. The Wise and the Wicked by Rebecca Podos.
The strong focus on family history in this blurb was what first grabbed my attention. My family has all sorts of stories about our ancestors that have been passed down through the generations. I love reading about other families that do the same thing. This seems to happen in every corner of the globe. I can only assume families from every culture occasionally disagree on specific details of their stories, too, just like mine does!
7. Wild and Crooked by Leah Thomas
It's been a long time since I read a small town murder mystery. This sounds like it could be a good read.
8. A Queer History of the United States for Young People by Michael Bronski
Oh, how I wish I'd had a book like this when I was a teenager. I've always enjoyed history, but I also couldn't help but to wonder why none of the history books I read or museums I visited every talked about people like me. They barely discussed women at all. Queer women (or people in general) were basically erased entirely.
9. Silver in the Wood by Emily Tesh
There's something a little magical about wandering around in the woods. As much as I love my city life, I'm also irresistibly drawn to books that explore what might be living in the parts of forests where humans rarely venture.
10. Empress of Forever by Max Gladstone
As soon as I heard this was a feminist Guardians of the Galaxy type of story, I was intrigued. I'm not normally into space operas, but this one might change my mind about that.
Have you read any of these books? If so, what did you think of them? How big are your TBR lists in general?