Hosted by That Artsy Reader Girl
1. If you visit a new city, you immediately look for the nearest bookstore or library.
2. If you've ever taken a cruise, packing enough reading material is more important than remembering that extra outfit or having room for a souvenir.
3.You quote your favourite books without necessarily mentioning where those quotes came from.
4.You get excited when you meet someone who enjoys the same genre(s) you do.
5. If you've ever been hospitalized, you ask for new reading material when loved ones ask you what they can do to make your stay more comfortable.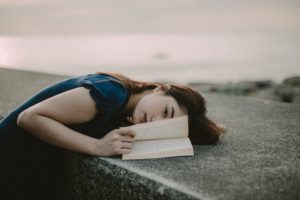 6. You give baby-friendly board books as presents to families with new babies.
7. You've dreamt about your favourite characters or worlds.
8.Your local librarian recognizes you when they see you somewhere other than the library.
9. If you use online dating sites, your love of books is mentioned somewhere in your profile and you screen new potential partners at least in part based by whether or not they're a reader.
10. Your pets get to have a story time, too.