Hosted by Long and Short Reviews.
Click here to read everyone else's replies to this week's question and here to see the full list of topics for the year.
You all might laugh and shake your heads when you read this response. I don't like to assume that everyone is familiar with the same stories or genres, so I'll explain my answer a bit for anyone who needs it.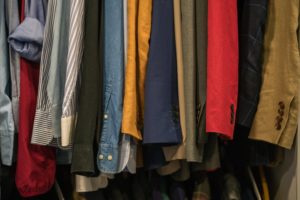 In an early scene of The Lion, The Witch and The Wardrobe, one of the main characters is a young girl who has just been sent to a strange, old house far away from home to protect her and her siblings from the bombing of England that occurred during World War II.
While playing hide-and-go seek in that house, she ends up in a closet that doesn't have a back wall to it. Instead, she pushes through the many winter coats stored in it to discover there's a mysterious  snowy forest behind them. That scene was pure magic to me when I first read it in elementary school.
I may be a rational adult now, but I still reach out and touch the back of every unfamiliar closet I use just in case there's something back there other than the usual particle board.