Hosted by Long and Short Reviews.
I have several answers to this week's prompt! It's always nice when that happens. To the best of my knowledge, none of these books have or are currently scheduled to be made into films. If any of you have heard differently, I'd sure like to know.
Invisible Man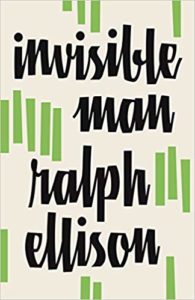 by Ralph Ellison
Why: Racism is one of those topics that is always relevant and timely. I'd love to see how this book's descriptions of what it feels like to be a black man living in a society that discriminates against him would be updated for life in 2019.
The Graveyard Book by Neil Gaiman
Why: Neil Gaiman is a talented writer who has had other books of his made into amazing films and series. I think The Graveyard Book would be a wonderful thing for children to see at Halloween because of how unusual it would be for ghosts to raise a baby in a graveyard. The comedic possibilities there are endless!
Unwind (Unwind, #1)  by Neal Shusterman
Why: Between the forced childbirth and the forced organ/issue donation (among many other human rights violations), this is the scariest dystopian novel I've ever read. It would make a terrifying movie that I'd be both excited and a little nervous to see.
The Last Battle (Chronicles of Narnia, #7)  by C.S. Lewis 
Why: The first few Chronicles of Narnia have been made into films often. Every time Hollywood decides to retell the first few books, I cross my fingers that audiences will be interested enough to keep the series going until the end. The Last Battle is filled with action-packed battles and other scenes about the end of Narnia that I think would look amazing on the big screen.
I'd especially love to see the scenes in this book when everything on Narnia withers away or blinks out of existence, including the plants, animals, and stars. It was a very interesting thing to read about for reasons I can't discuss here without giving away spoilers. Maybe someday we will get to see the film version of this, though!
Life As We Knew It (Last Survivors, #1)  by Susan Beth Pfeffer 
Why: This is going to give away my age, but I was young enough to be worried about the world as we knew it shutting down for a long time – and maybe even forever – when the Y2K bug was hyped up in the late 1990s.
My mom and I had a few reassuring chats back then about how she and dad would take us to go live on my grandparents' farm if all of the computers in the world shut down and we had to go back to a low or no-technology existence. Farming is a lot of work, but we always would have had food to eat and a safe place to live in that scenario.
The cool thing about the Last Survivors series was how much detail it went into about how people would band together to survive after a natural disaster that severely affected the balance of life on Earth. Their problems were different than the ones I worried about back in the day, but I loved seeing a fairly realistic and peaceful "end of the world" type of novel.
Click here to read everyone else's replies to this week's question. The image below is the list of upcoming prompts for this blog hop.