Hosted by Long and Short Reviews.
Click here to read everyone else's replies to this week's question and here to see the full list of topics for the year.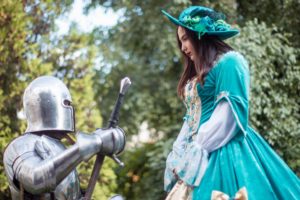 Raise your hand if you read the fantasy genre!
There are countless things I love about these sorts of stories, but I have to admit that some of the names in them are pretty hard to get rolling off of my tongue.
There are often massive linguistic differences between names from real-life cultures I may not be well-acquainted with and names that were made up by the authors themselves.
The former have pronunciations that make sense once you understand a little bit about the language they came from and how vowels and consonants can and can't be joined up together in it.
This isn't always the case for the latter unless you have an author like J.R.R. Tolkien who creates entire languages for his worlds. While I definitely don't judge anyone who skips that step when creating a fantasy world, it can make pronouncing the names of the characters in it trickier.
So I tried to keep this list pared down to names that trip me up due to them not being formed by strict rules of pronunciation.
Daenerys
Zeddicus Zu'l Zorander
Tekilashan
Numuhukumakiaki'aialunamor
Kylarral-ten
Tvlakv
Drizzt Daermon N'a'shezbaernon.
Zoenen Hoogstandjes
I found most of these names in this Reddit thread if anyone is interested in reading more.