Hosted by Long and Short Reviews.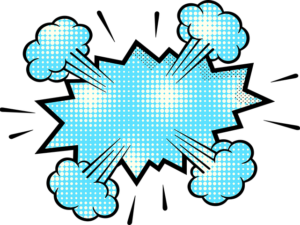 What a fun prompt this one was!
I have several different superpowers. Almost all of the humorous things I was going to include on this list fit better into the Strange or Useless Talent prompt that's coming up in November, so keep an eye out for that one. It's going to be delightful.
1. Analyzing stuff. That is, I'm really good at picking a story apart, figuring out what did (or didn't) work in it, and then writing a solid review about that book, TV show, or movie.
2. Working quietly behind the scenes. I'm a little too bashful to want the spotlight pointed at me, but I excel at keeping things going behind the scenes while someone else gives a speech or otherwise acts as the public face of whatever it is we're working on.
3. Using up leftovers. I grew up in a family culture that deeply disliked waste, especially when it came to food. If there was only half a serving of rice or potatoes left, it went back into the fridge and someone would eat it before it went bad. Sometimes this means my meals are a little nontraditional, but I love the feeling of making sure that everything that is cooked is eaten. For example, I recently ate three ears of corn, two hardboiled eggs, and a slightly soft pear for dinner because that was what needed to be used up in the fridge. I like those kinds of mish-mash meals, though!
4. Seeing the best in people. If someone does something I find perplexing, I do everything I can to find a rational explanation for it. We all have off days, and I have a lot of grace for people who accidentally say or do the wrong thing.
5. Making and updating spreadsheets. This is something I've done for years for fun. It's so satisfying to see neat, little rows of numbers in a document.
Click here to read everyone else's replies to this week's question. The image below is the list of upcoming prompts for this blog hop.