I come across the most beautiful, scary, haunting, and fascinating images when I'm searching for stock photos for this blog. It always makes me a little sad when I realize that nothing I've written so far fits them in any way.
They're the kind of images that demand an audience, so today I'm sharing a few of these unusual pictures with you in the hope that you'll be inspired by them. If anyone uses one of these images as a writing prompt, I'd love to know how you interpreted it! Send me a message about it on Twitter.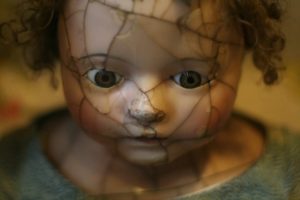 An Unbroken Doll
The fact that this doll's face was broken at one point doesn't surprise me. Toys break all of the time.
Who painstakingly glued her back together, though?
That isn't the kind of chore that can be finished in a few minutes. It probably took days of carefully sifting through the sharp porcelain pieces of her head to figure out how every piece fit together and what kind of glue works best for this sort of delicate project.
It would take a lot of determination to see this project through to the end. I imagine only someone who had a strong emotional urge to do it would succeed.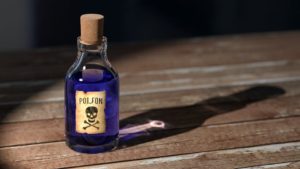 The Pretty Poison
None of the household poisons I've ever seen look anything like this.
The purple liquid sure seems like it would smell nice. I'm imagining a light, floral scent that almost disappears once air hits it. You'd have to be quite close to it to catch a whiff of anything.
That wouldn't make it any less dangerous, of course. Every apothecarist knows that.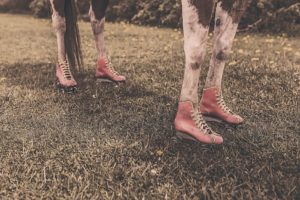 Leg Day
Look closely at the picture above. It may take you a moment to notice the strange twist in it.
My first thought when I saw it was that it was some kind of genetic engineering gone weird. The horses legs look almost human at first glance. Is a horse still a horse if some part of its DNA somehow came from a human?
I'd love to read that book and find out.
Happily Ever After
The bright colours and whimsical scenery in it caught my eye. immediately. They're exactly what I'd expect to find in a fantasy romance novel.
This is the kind of cover that would make me pick up a book to find out more about its plot. If nothing else, I'd want to know if there was an entire forest of heart-shaped trees for the characters to skip through or if this tree was unique in that way.
Knock, knock!
This is another one of those photographs that seems perfectly ordinary when you first glance at it. I was actually planning to save it for a future post about something cheerful and ordinary like going on vacation until one strange little detail in it popped out at me.
That detail catapulted this post from it's original purpose into possible story territory. The explanation for it could be completely logical and scientific, but there's also room for science fiction, fantasy, paranormal, or even horror elements to it if you prefer. Stop reading now if you want to figure out on your own what I noticed.
For anyone who needs or wants a hint about, pay attention to the body language of the woman in the centre of the photograph. How has she positioned herself? Do you notice anything unexpected about it?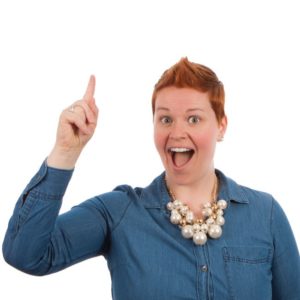 The Insincere Smile
The stock photo site that I use most often has dozens of pictures that are similar to this one. The models are always nicely dressed  but have completely insincere expressions on their faces.
There are many explanations for why that might be so. Sometimes I like to come up with some reasons for the fun of it. Were the models worn out from a day of posing? Are they trying to secretly warn their audiences about who or what might be lurking behind the camera? The possibilities are endless, and the sci-fi writer in me prefers the unexplainable ones.
All that Glitters…
What I like the most about this picture is how versatile it is. Off the top of my head, it could be interpreted to be part of the erotic romance, regular romance, science fiction, fantasy, or even the older end of the young adult genre. You could probably even find a way to turn it into a mystery or a thriller if you massaged the possibilities enough.
That ambiguity makes me smile. I like it when stories leave room for more than one genre to flourish in them. When its done correctly, this can be a wonderful way to introduce people to types of storytelling that they might not otherwise be open to trying.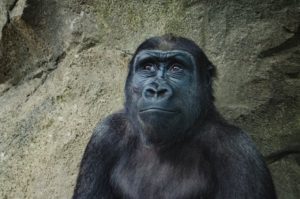 Deep in Thought
I both love and hate seeing gorillas and other apes at the zoo for the same reason: they remind me so much of human beings.
Everything from their mannerisms to their facial expressions can be eerily close to the way that people behave at times. When I look at them, I feel like we are this close to having a conversation about the weather or which kind of fruit is in season now.
While I'm glad that they have a safe place to live, it also feels wrong to cage them up. They feel too intelligent for that fate to me.
The nice thing about this picture is that it could be used for non-fiction just as easily as it could for fiction. You don't have to invent anything about the intelligence of other primates in order to write about them. We already know that while they might not be exactly like us, they're also not exactly like other animals either.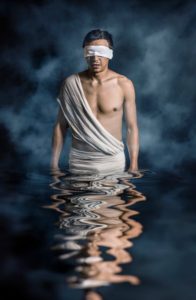 When Justice Is Blind
Is it just me, or does that water look uncomfortably cold?
The first thing I thought when I saw this scene was that it looked like a test of some sorts. Is he expected to swim in that chilly water or simply stand in it blindfolded for a predetermined amount of time?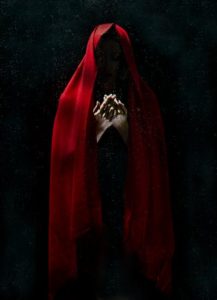 The One Who's Watching You
Obviously I had to save the best picture for last today. This is the creepiest thing I've stumbled across in a long time.
Not seeing a character's face always scares me.
The fact that we can see his or her hands doesn't help the situation, though. Their nails look sharp and rough. Their skin looks leathery, and I'm not entirely sure it would still be warm to the touch if they brushed against you.
What does he or she want?
I'm afraid to ask, but I'm even more afraid to turn away before they do.