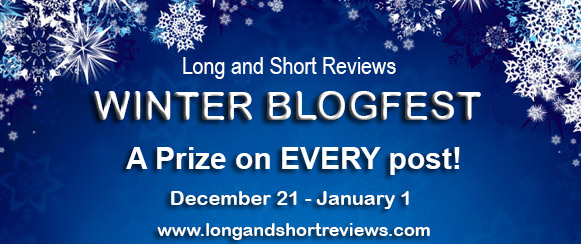 Long and Short Reviews is a large, well-respected book review site that has been around since 2007. They are currently seeking out guest bloggers for their Winter Blogfest which is scheduled to run December 21 through January 1.
This is an amazing free opportunity for authors from any genre to meet likeminded writers and introduce yourselves to new potential readers.
Here's what you'll need to do to participate:
Write a 250-500 word guest post that is holiday or winter themed
Offer a small prize (for example, a free copy of one of your ebooks or anything else you choose to offer)
It's that simple.
The Winter Blogfest is open to everyone and every winter holiday. You could write about Hanukkah, Kwanzaa, Christmas, the Winter Solstice, New Year's, other winter holidays/celebrations, or the winter season in general.
In past years, they've published guest posts about special holiday recipes, people's favourite memories of the season, funny stories about celebrations that maybe didn't turn out the way the author thought they would, the history of certain holiday figures, foods, songs, etc., and so much more. As long as it's not pure promo, let your imaginations run wild.
Participants also have the option of including links to their website, social media accounts, etc. if they wish.
Go to Long and Short Reviews for instructions on how to submit your entry and for more information. I look forward to reading your entries if you decide to join in.
The deadline to submit a guest post to this event is December 11. Spread the word!