Hosted by Long and Short Reviews.
Click here to read everyone else's replies to this week's question and here to see the full list of topics for the year.
Honestly, it's been years since I read a book that included actual recipes in it, But I do love stories that describe food, especially when they goes in great detail about it.
All of these dishes seem simple enough to reverse engineer recipes for, so I figured that's close enough for this week's prompt. 🙂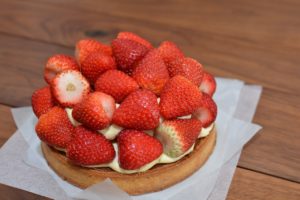 Tarts from Alice's Adventures in Wonderland:
In the next moment, her eyes fell on the White Rabbit that was serving the court as a herald and was reading the accusation that the Knave of Hearts had stolen the Queen's tarts. In the middle of the court, a large platter of tarts was on display."
(In my imagination, they're strawberry tarts!)
Roasted potatoes from The Secret Garden by Frances Hodgson Burnett:
"Dickon made the stimulating discovery […] there was a deep little hollow where you could build a sort of tiny oven with stones and roast potatoes and eggs in it. […] Very hot potatoes with salt and fresh butter in them were fit for a woodland king—besides being deliciously satisfying."
Blueberry Pie from Charlotte's Web by E.B. White:
"The children ran for the kitchen. 'Just in time for a piece of blueberry pie,' said Mrs. Zuckerman."
Clam Chowder from Moby-Dick: 
"However, a warm savory steam from the kitchen served to belie the apparently cheerless prospect before us. But when that smoking chowder came in, the mystery was delightfully explained. Oh, sweet friends! hearken to me. It was made of small juicy clams, scarcely bigger than hazel nuts, mixed with pounded ship biscuit, and salted pork cut up into little flakes; the whole enriched with butter, and plentifully seasoned with pepper and salt."
This entire amazing meal from Fried Green Tomatoes at the Whistle Stop Cafe by Fannie Flagg:
"Idgie and Ruth had set a place for him at a table. He sat down to a plate of fried chicken, black-eyed peas, turnip greens, fried green tomatoes, cornbread, and iced tea."
Is anyone else hungry now?