Title: The Sword and the Kestrel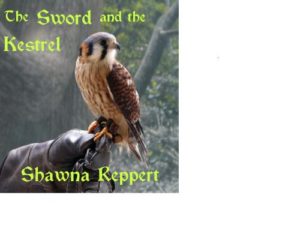 Author: Shawna Reppert
Publisher: Self-Published
Publication Date: July 10, 2012
Genres: Fantasy, Contemporary
Length: 21 pages
Source: I received a free copy from the author.
Rating: 4 Stars
Blurb:
Can a Renn-Faire falconer break an ancient family curse and make peace with the Lord of Forests?
Review:
Content Warning: A life-threatening heart condition
Nothing is more powerful than love.
Guy's character development was beautiful. I appreciated his serious personality and how much time he spent wrestling with the choices that lay before him, none of which were good ones. No matter what he decided to do with his life next, he knew that he would never live to see old age. That's a heavy burden for anyone to carry, and his reaction to it was nuanced and realistic. Some of the most interesting scenes for me were the ones that showed him being seriously tempted to commit a crime. So much can be learned about characters by observing them in their lowest moments when they think they might be able to get away with something, and Guy provided plenty of opportunities to explore his personal code of ethics and decide how he wanted to spend his short life.
There was one dangling thread in the storyline that I wish had been tied up properly. It involved Guy's relationship with one of his falcons, and I kept expecting the narrator to swing back to that sticky subject and tell us how it was going to be made right again. He adored his falcons so much that I found the resolution that was actually shared to be a little unrealistic for what I'd learned about his personality. If not for this issue, I would have loved to give it a full five-star rating.
I smiled when I figured out which myth inspired the creation of this story. No, I'm not going to spoil it for anyone, but I thought the author did an excellent job of translating the themes of that story into our modern age. Fashions may be different now, but there was plenty of room in that source material for contemporary storylines to flourish. I found myself smiling and nodding along as more references were added and Guy slowly began to behave exactly like someone would have in that myth, give or take a little modern technology, of course.
The Sword and the Kestrel felt like a piece of folklore come to life.