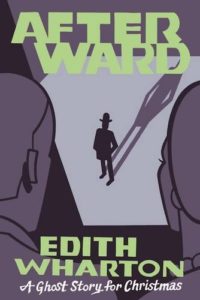 The telling or reading of ghost stories during the Christmas season was once a tradition in Victorian England. This series of books seeks to revive this tradition. As I did last year, I will continue reviewing several of them each December until I've reached the end of this series. 
Title: Afterward – A Ghost Story for Christmas (Seth's Christmas Ghost Stories)
Author: Edith Wharton
Publisher: Biblioasis
Publication Date: 1910 and 2016
Genres: Paranormal, Historical
Length: 53 pages
Source: I borrowed it from the library.
Rating: 4.5 Stars
Blurb:
A newly rich American couple buy an ancient manor house in England, where they hope to live out their days in solitude. One day, when the couple are gazing out at their grounds, they spy a mysterious stranger. When her husband disappears shortly after this eerie encounter, the wife learns the truth about the legend that haunts the ancient estate.
Review:
Content warning: suicide. I will not be discussing this in my review.
Sometimes the presence of at least one ghost is the biggest selling point of them all for a crumbling estate that's for sale.
The thought of purposefully seeking out a haunted house to live in made me laugh out loud when I read the first scene of this story. Mary and Edward Boyne didn't want to buy any old house. It had to be haunted! I was so amused by their approach to this that I couldn't wait to find out why they wanted to live with a ghost and what they hoped to get out of the arrangement.
There were times when I found the pacing slow, especially in the beginning when the main characters first moved into their new home. With that being said, Ms. Wharton had excellent reasons for writing her tale this way. While I did still wish for a snappier beginning, the twist ending more than made up for that.
The character development was well done. Mary and Edward were both restless, creative souls who honestly seemed to have more time and energy on their hands that was good for them. I shook my head at some of their attempts to get enough mental stimulation out of life, but I was also fascinated by the fact that neither member of this couple was at all satisfied by what seemed to me to be a pretty stable place for the creative endeavours (painting and writing) they were hoping to pursue.
I'd heartily recommend this short story to anyone who doesn't mind a dark plot.