Hosted by That Artsy Reader Girl
The original prompt for this week was 'Books I Hope Santa Brings."
My to-read list is already so long that I decided to tweak it a little to be "Bookish Things I Hope Santa Brings." The funny thing is, my parents never did Santa stuff when I was a kid and I don't actually celebrate Christmas.
To be perfectly clear, I'm not at all offended by the assumption that we all eagerly await presents from Santa, but I think it would be really cool to see what other holiday-themed prompts Jana could come up with next year.
I wonder how many other Top Ten Tuesday participants celebrate winter festivals, holy days, or other events that are not at all related to Santa or Christmas? There must be at least a few of us out there!
Anyway, here is my list of bookish things that I wish Santa would bring to me.
1. Gift Cards to Local Bookstores 
When this pandemic started, I began ordering my bookish things through Amazon and big chain bookstores because everything else was either shut down entirely or hard to place an order through. 2022 should be the year I start supporting small, local businesses again.
2. Caffeine-Free Tea 
There can never be enough of it, especially when you're reading a book about characters who are outdoors in the cold and have little access to luxuries like this.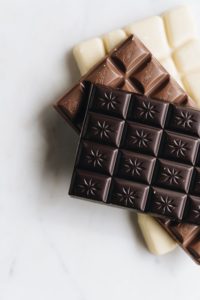 3. Dairy-Free Chocolate 
My reasons for this answer are quite similar to my reasons for choosing my second answer. If I must read a story about characters who can't eat sweets for any number of reasons, I'll feel a little better if I can nibble on something sweet while I discover why their diets are restricted.
4. New Novels From My Favourite Authors
I'm especially hoping that these authors will release new books this year: Sarah Waters, Rivers Solomon, Nnedi Okorafor, Becky Chambers, Alex Cross, and Andy Weir.
What do you think the chances are that at least one of them will release something in 2022?
5. A Discovery of a Forgotten Novel from a Long-Dead Author
I won't narrow it down to any particular author. I simply think it would be incredible for fans to learn there's a "new" book for them to read from an author who died decades or even a few centuries ago. It would almost be like that author briefly coming back to life again.
6. To Recommend a Book That Someone Else Loves 
7. To Receive a Book Recommendation for Something I Love 
My last two answers are somewhat related to each other.
There's nothing like the feeling of giving or receiving a book recommendation that is perfect for the person who ends up reading it! Honestly, it's the closest thing we have to true magic in this world other than falling in love.
This happens so infrequently that I'll have to rely on Santa to help it come true at least once next year.