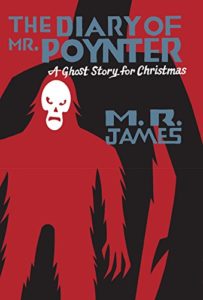 The telling or reading of ghost stories during the Christmas season was once a tradition in Victorian England. This series of books seeks to revive this tradition. As I did last year, I will continue reviewing several of them each December until I've reached the end of this series. 
Title: The Diary of Mr. Poynter – A Ghost Story for Christmas (Seth's Christmas Ghost Stories)
Author: M.R. James
Publisher: Biblioasis
Publication Date: 1919 and 2016.
Genres: Paranormal, Historical
Length: 38 pages
Source: I borrowed it from the library.
Rating: 2 stars
Blurb:
While engrossed in an ancient account of the sinister death of a student obsessed with his own hair, a man leans down to absently pet his dog — oblivious of the true nature of the creature crouching beside him. Seth's newly illustrated version of M.R. James' classic Christmas ghost story is a spooky holiday delight.
Review:
It turns out there is such a thing as being too engrossed in a book.
Out of all of the things in the world one could get excited about, a fabric sample is honestly pretty far down on my list. The fact that something as ordinary as this could change the lives of the people who found it in ways they never would have imagined made for a creative read.
The pacing of this story was slow and included many rambling details and asides that didn't seem that relevant to pushing the plot forward. As interested as I was in the premise, I struggled to remain interested in the storyline because of these issues.
I'm not normally a fan of tales that include morality lessons, but this one was nice and subtle which is something I appreciate in that genre. The reader is mostly left to their own devices when it comes to deciding what the mistakes of the characters might have been and how they could have made better choices.
If you don't mind a little sermonizing in your ghost stories, this is an interesting read.