Content Warning: Blood and a dysfunctional family. I will be briefly mentioning these things in my review.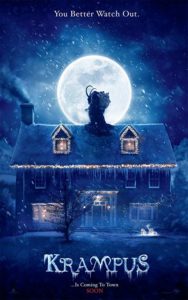 Krampus is a 2015 dark fantasy horror comedy film about a young boy named Max who has a disappointing Christmas with his argumentative, dysfunctional relatives and accidentally summons a festive demon to his home as a result of it.
In Central Europe, Krampus has been known historically as a  "half-goat, half-demon" creature who punishes naughty children at Christmas time. Some folklorists think he might have been invented long before Christianity existed!
He is generally described as a creature with cloven hooves, horns, fangs, and a thick pelt of black or brown hair covering his body. Think of him as a contrasting figure to Santa who rewards good children with presents, but stories about him probably existed in Central Europe long before Santa did.
I was vaguely aware of the legends surrounding this mythical figure before watching this film. It was fascinating to learn more about him both by watching it and doing some research about where this legend came from and how it has evolved over the years.
As always, my descriptions of the characters are written in the past tense to avoid giving away spoilers.
Characters
Max was the main character. He still believed in Santa when this film began, and he accidentally summoned the Krampus after having a fight with his cousins about the existence of Santa among other sensitive topics in this family.
Tom was Max's loving and devoted father.
Sarah was Max's perfectionistic mom. She wanted all of her relatives to have a nice time over the holidays and spent weeks preparing for Christmas to help this come true.
Beth was Max's exasperated older sister who was dreading spending the holidays with her rowdy and uncouth relatives.
Omi Engel was Tom's mother and Max's grandmother. She only spoke German, but she did understand English. Several of her relatives were fluent in German and could translate for her. Much of her time was spent baking sweet treats and brewing hot chocolate for her family.
Aunt Dorothy was Beth and Linda's passive aggressive, prejudiced, and mean-spirited aunt. No one wanted to invite her to Christmas festivities, but no one could bear to turn her away either.
Linda was Sarah's sister. She and her husband were overwhelmed by their four unruly children.
Howard was Linda's husband and Max's uncle. He loved hunting and making off-colour jokes.
Rosie was the Engel family's dog. She was a friendly pooch who was always in the market for a nibble of human food.
Krampus was the demon Max accidentally summoned.
My Review
Yes, this film is part of the horror genre, but with the exception of one brief scene it was not gory. There's a lot a storyteller can do to freak out an audience without showing anything graphic. The people who worked on this project did a great job of finding the horror in anticipation instead of bloodshed.
The buildup to Krampus' arrival was well done. I felt like I had plenty of time to get to know the characters before their lives were turned upside down. It was also nice to see the juxtaposition between the sentimental approach to the holiday season at the beginning of this film and the darker turn it took later on.
Krampus was a wonderfully scary villain. It was rare for the audience to see his face during the course of this story. Somehow, that made him even more frightening than he would have otherwise been. Hearing heavy boots clomping on the roof or seeing the quickest glimpse of his long, sharp fingernails put my imagination into overdrive. Picturing what he might look like was far  scarier than actually seeing him, and I'm saying that as someone who thought that the film makers did a great job of bringing this creepy legend to life.
I liked the way the character development was handled. The younger Engels had good reasons for dreading another visit with their relatives. While the extended family wasn't abusive or anything like that, they did have some pretty unhealthy communication and behavioural issues. Spending time with Aunt Dorothy or the young cousins looked exhausting. Nothing satisfied them, and they seemed to change their minds about what they wanted from one moment to the next. It was pretty interesting to see how the Engels dealt with this and what happened when Max in particular reached his breaking point with them.
As mentioned in the content warning, there was one scene involving blood in the storyline. It happened quickly and was important to the plot development. The rest of the film relied on jump scares, psychological horror, and other non-gory means of frightening the audience.
There was a plot hole that was never resolved. It involved what one of the characters knew about the legend of this demon creature and what they did with that information. This was something so surprising that I was pretty surprised to see the plot brush over it so quickly. It sure would have been nice to explore this more in depth.
With that being said, I still had a good time watching Krampus. It was the first Christmas horror film I've ever seen, and I thought it did a nice job of combining imagery from both types of storytelling to come up with something unique.
If you'd like to try a Christmas movie that doesn't have the slightest whiff of sentimentality to it, I'd recommend starting here.
Krampus is available on Apple TV.