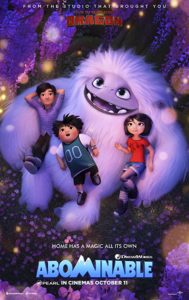 Content warning: vomiting and references to the death of a parent. I will not be discussing these things in my review.
Abominable is a 2019 American animated children's fantasy film about three teenagers who travel from Shanghai to Mount Everest in the Himalayan mountains to return a kidnapped Yeti they nicknamed Everest to his home.
They must accomplish this while avoiding the wealthy businessman who wants Everest back and the zoologist he hired to track down this rare and valuble creature.
Characters
Yi was a violin-playing teenager who lived with her mother and grandmother. Their family could afford the basics in life but had to budget carefully for anything beyond their simple lifestyle. 
The cool thing about Yi was that she was always looking for a way to pay for her own treats. She wasn't afraid of hard work if it would get her access to things that her family couldn't otherwise afford.
Peng was a friend of Yi's and Jin's cousin. He was a playful, fun-loving teen who sometimes had trouble thinking through the probably consequences of his actions before trying something new. 
Jin was a friend of Yi's and Peng's cousin. He'd always lived in a very financially stable home and sometimes had difficulty understanding why other folks were cautious with their possessions and money. 
Everest was the the young, impulse, friendly Yeti at the heart of all of this conflict and adventure.
Burnish was a wealthy man and head of Burnish Industries. He wanted to have a pet Yeti all to himself. 
Dr. Zara was a zoologist working with Burnish to capture a Yeti for him. She was an intelligent and resourceful woman who looked for every opportunity to get what her client wanted.
My Review
What an adventure this story was!
Yi was such a memorable main character. She had a sweet but sometimes stubborn personality that shone through no matter what combination of emotions she was currently experiencing. I thought the screenwriters did an excellent job of capturing the ups and downs of being a teenager, especially one that had already been through as much adversity as she had.
I enjoyed Pen's innocent approach to the things he and his friends experienced. He seemed young for his age in the sense that I wondered if his parents were much more protective than the parents of his friends.
It took me a while to warm up to Jin because of how different our childhood experiences were as far as knowing the cost of common items and our expectations surrounding the shopping process go. I couldn't imagine shrugging off some of the financial stuff he did, but his maturation in this area went a long way in endearing me to him. Some kids genuinely do grow up in families that buy them anything they want. I envied those kids a little when we were peers, but this film did a great job of showing the eventual downside of that sort of lifestyle.
The storytelling itself was marvellous. I loved the way all three main (human) characters reacted to Everest and how compassionate they were when they realized he needed to be protected and brought back home. There were so many heartwarming moments between all four of them.
The Yetis in this film were quite different from the ones I reviewed in Smallfoot earlier this month. I'd better not go into detail here, but I would recommend taking the time to compare and contrast them to anyone who watches both of these films.
Abominable Snowmen are fascinating creatures in general, and I'm glad to see them getting more attention in the media. Every reinterpretation of what they might be like if they were real creatures only pushes them into the limelight once again, and I like that.
This tale was filled with adventure from beginning to end. I had such a good time following along on the main characters' trip to the Himalayan Mountains. The only piece of constructive criticism I can give to it is that I wish it had spent more time showing what Yeti society was like in general. Smallfoot did a great job of showing Yetis at many different ages and stages of life.
Everest was a very young Yeti, and there weren't too many examples of other members of his species. So there were a few times when I wasn't sure if his behaviour was due to his species or the fact that he was probably the equivalent of a preschooler or young child as far as his development went.
With that being said, this is a minor criticism. The rest of this film was well written and entertaining. I am planning to rewatch it and hope anyone else who gives it a shot enjoys it just as much as I did.
Abominable is available on Crave and Apple TV.