Seven years ago, I became a Canadian citizen. There are many things I love about being a citizen of both Canada and the United States. Having the excuse to celebrate Thanksgiving twice every year is definitely part of that list.
Yes, this is blog post about food.
No, this isn't about turkey. Don't tell the rest of the omnivores out there, but I'm actually not a big fan of turkey. It isn't something my spouse and I eat on Thanksgiving the vast majority of the time. If it disappeared from the traditional menu altogether, I honestly wouldn't miss it.
While there are many other foods I'd happily eat during this holiday, my ideal Thanksgiving dinner could easily be comprised of nothing but the three dishes below. I am only particular about how one of them is made for reasons that I'll explain later on this post.
The first mandatory dish for Lydia's ideal Thanksgiving is mashed potatoes with gravy.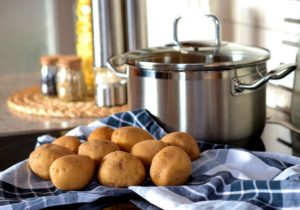 Yes, I will love them if they came from dehydrated potato flakes and powdered gravy.
Yes, I will love them if they came from a frozen bag of mashed potatoes (so long as there aren't any milk products in them) and if the gravy was an everyday ground beef gravy.
Yes,I will love them if they came from real potatoes that were peeled, boiled, and mashed to perfection and if the gravy was a fancy one made from drippings, broth, spices, and flour moments before it was brought to the table.
In short, there is no wrong way to make mashed potatoes and gravy. As long as eating it won't make me physically ill, I will enjoy them however they are prepared. Mashed potatoes are the ultimate comfort food.
The second mandatory dish for Lydia's ideal Thanksgiving is pie.
We've had store-bought blueberry, apple, or lemon meringue pie for the last few Thanksgivings at my house, but any kind of pie will do.
Yes, I will love them if they're homemade from the finest organic ingredients by someone who thought about nothing but happy thoughts while rolling out the dough.
Yes, I will love them if they're store-bought, generic, and a little squished from being carried home with lots of other groceries.
Yes, I will love them if they have lemon meringue, strawberries, blueberries, cherries, peaches, pumpkins, squash, or just about any other kind of pie-friendly filling in them.
If you provide some non-dairy ice cream to go along with the pie, I'll be absolutely thrilled. This is not a requirement, though, and I actually didn't bother to eat ice cream with the apple pie my spouse and I enjoyed this Thanksgiving.
I am not particular about this dessert. The fact that it exists at all will almost certainly make me perfectly happy. All pie is delicious pie.
The final mandatory dish for Lydia's ideal Thanksgiving is angel eggs.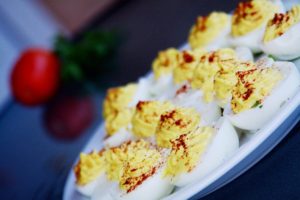 You probably know them as devilled eggs instead. When I was a child, my parents renamed a few foods that had the word "devil" in them like devilled eggs (we called them angel eggs) or devil's food cake (we called it chocolate cake). Why they did that is a long, complicated story, but when I grew up I never made the switch from referring to them as angel eggs to devilled eggs like the rest of the world does.
They were known as angel eggs when I was three, and I will still call them that when I'm a hundred and three. This is where I suddenly become stubborn and picky about my food.
No, I will not call them devilled eggs. You can call them whatever you wish, but my mind was made up on this topic very early in life.
No, I do not want store-bought angel eggs. I'd honestly rather pretend like such a thing was never invented at all.
No, I do not want anyone who doesn't know our family recipe to attempt to make them no matter how delicious they think their version of it may be. My mother's angel eggs are the best ones in the world. Not only are they the perfect blend of ingredients, they remind me of some very happy childhood memories.
Happy Thanksgiving
Now that you know exactly where my loyalties lie, Happy Thanksgiving to all of my Canadian readers. I hope this post made you smile.
If you live somewhere else in the world, this Canadian officially gives you permission to borrow our holiday if you're in the mood for a festive meal today. Feel free to include your favourite foods in them, too, and to ignore the ones you may not like no matter how traditional they may be.