Today's post is a little off the beaten path, but I do occasionally enjoy sharing snippets of my life that aren't related to writing, science fiction, fitness, or mindfulness.
As I discussed in Things Nobody Tells You About Moving to Canada, I'm an immigrant. I was born and grew up in the United States. When I was in my early 20s, I moved to Canada and have called it home ever since.
Don't tell the Canadians this, but these two countries were so similar that I didn't experience the kind of culture shock that some immigrants go through when they move to a place that is nothing at all like him. Part of that is due to the fact that Caucasian immigrants are given social privileges that immigrants from other parts of the world don't get, of course, but part of it is also due to the fact that the U.S. and Canada share a lot in common in general.*
*(Although, if anyone is curious, I might have to write a post about the differences between these two nations one of these days.)
Canadians and Americans generally both speak English. With the exception of a few quirky words like chesterfield and toque, we normally understand each other's dialects without any issues at all.
The U.S. and Canada have remarkably similar etiquette rules and social customs. It was rare for me to accidentally step on someone's toes when I first moved to Toronto and began adjusting to the cultural differences that I did notice here.
People in both countries tend to have access to similar sorts of foods throughout the year. While there are a few special foods in each nation that I can't find when I cross the border, all of the staples in my diet can be found anywhere I might roam in Canada or the U.S.
The weather wasn't much of a change, either, since Ohio and Toronto are so close to one another geographically speaking. I didn't have to suddenly trade my entire wardrobe in for one meant for a much hotter (or colder) climate.
With that being said, there was one thing about moving to Canada that surprises me to this day.
You see, I grew up in a very patriotic country. I routinely saw American flags decorating people's cars, homes, shoes, tattoos, toys,  t-shirts, and assorted foods among many other items.
When the Fourth of July rolled around every summer, many of the people my family knew threw huge barbecues or other backyard parties to celebrate it. Sometimes we might have even attended more than one of them on that long weekend some years due to my father's prominent role in the community as a minister.
There were always fireworks, both the legal kind that were set off by the city and the semi-legal to illegal types that people sneakily ignited in their backyards off and on during the first week of July. At any other time of the year, I'd assume that a loud popping noise was a car backfiring or, much less likely, gunshots going off. During the week we celebrated Independence Day*,  it was fireworks without a doubt.
*Yes, non-American readers, it's just as contradictory as it sounds. I have no idea how what should have been a one-day celebration ended up being spread so far, but it did.
The way Americans talked about their country was different as well. I'd often hear people say that we lived in the best place on Earth and that we didn't know how lucky we were to have all of the freedoms we enjoyed. This wasn't even necessarily done to be boastful. It was closer to a matter-of-fact response to the thought of our country turning another year older. There was a sense of pride in their voices and body language that couldn't be ignored. Everyone presumed to know that this was the truth.
It was all such an ordinary part of life that I honestly didn't think about it twice. I assumed that every country had a similar holiday they seemed to relish just as much as our own.
Patriotism, Canadian Style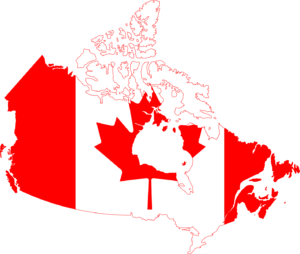 Due to these early life experiences, I looked forward to Canada Day earnestly when I first moved up here. It occurred so closely to the Fourth of July that I couldn't wait to take notes and find out which traditions, if any, might be different between my birth and chosen countries.
Imagine my surprise, then, when the Canadians around me didn't seem to be all that fussed over Canada Day as the first of July crept closer and closer.
Oh, there were a few advertisements in the local grocery store for barbecue-friendly meal ideas. The Canadians I'd met seemed to be happy to have a day off from work and school as well.
But they weren't exuberant, and the Canadian flag wasn't plastered on everything you could possibly imagine and a few things you maybe couldn't.
Their patriotism was subdued at best.
Nobody wore a Canadian flag bikini from what I could see (although I'd still totally wear one if I ever find such a thing. Be warned, Canadian kin! I'm still a shameless American when it comes to silly stuff like this.)
Nobody decorated the outside of their homes in large swaths of red and white to celebrate this special day.
Nobody swore up and down that Canada was the best country on Earth either. If anything, Canadians seem to be a little bashful on this topic. It can be hard to get them to understand just how lucky we are to live in a society whose safety net is so much more secure than it is south of the border. By no means is my adoptive country perfect, but a part of me is always amazed to see a doctor when I need to without worrying over how much they'll charge me for the treatments I might need.
The handful of Canada Day barbecues I've attended have been much more about the food than about taking pride in one's country.
This is a quiet way to observe the founding of Canada. While it wasn't at all what I was expecting when I moved up here, I've come to appreciate the subtleties of it all.
If you celebrate Canada Day, what do you do for it?