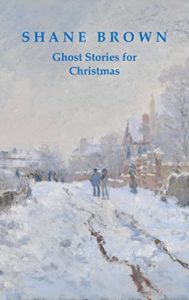 Title: Ghost Stories for Christmas
Author: Shane Brown
Publisher: Self-Published
Publication Date: December 3, 2021
Genres: Paranormal, Holiday, Historical, Contemporary
Length: 105 pages
Source: I received a free copy from the author.
Rating: 4 Stars
Blurb:
Five ghost stories set during the Christmas period to add an extra chill to the festive season! In "Houses Never Forget," a man returns to the village he grew up in, only to find that a house hasn't forgiven him for something he did as a boy. "The Philatelist" tells the story of two brothers, one good and one bad – but even the good might want revenge from beyond the grave. "Breaking Up is Hard to Do" is the tale of a man who is forced to repeat a tragic evening from his student days every year, but what happens when he tries to break the cycle? A university professor rents a remote cottage on the grounds of a former school in order to write up his research in "The Stranger in the Snow," but, when the snow falls, he finds he's not alone. Finally, "The Gift" is the heart-warming tale of an old man who is given an unusual gift by a department store Father Christmas. From the author of "The Pied Piper," "The School Bell," and "The Successor." 
Review:
Content Warning: arson, death of parents, hypothermia, possession, grief, widowerhood, infertility, homophobia, mental illness, someone getting beat up, car accident, murder, and references to the Covid-19 pandemic. One minor character died of Covid-19 before the tale they were in began. I will not discuss these topics in my review.
Christmas is the perfect time to reflect on the past for the living and the dead alike.
Here's an interesting tidbit of information for you as I get this review started: all of these stories are set in the same village, Brandley. Keep that in mind as you read them.
The unnamed protagonist in "Houses Never Forget" was someone who rarely thought about his rash childhood decision that that angered the house in his village so much. I can't go into a lot of detail about what he did without giving away spoilers, but I thought this was an intelligent sketch of a character who would be easy to villanize but whose decision was also one that many other folks make every single day without realizing just how corrosive small town gossip can be.
Joshua, the bad son in "The Philatelist," was a violent troublemaker who never showed signs of empathy for anyone. I was intrigued by how the adults around him reacted to him when he destroyed property and physically harmed others. He was the sort of person I'd never want to cross paths with, and yet I couldn't help but to wonder what had made him behave the way he did and why he enjoyed bullying his younger brother so much. It would have been helpful if the narrator had explained the origins of his behaviour because of how erratic and violent he was, but I also recognize that there are people like him walking around in real life whose decisions are just as difficult to understand. The plot of this one was straightforward, so I was glad to have some character development to ponder while I read.
After the heaviness of the previous story, "Breaking Up Is Hard to Do" was a nice change of pace. I think we all probably have at least one thing in our pasts we wish we could go back and change. When that isn't possible and there's a ghost involved who insists on repeating the same evening over again on the anniversary of her death every December, what's the next best option? Other readers should discover the answer to that question for themselves, but I thought this was a thought-provoking look at the unhelpful patterns people can find themselves in when they're unwilling to face their pasts. If only the narrator had dove more deeply into the topic. There seemed even more that could have been said about it, and I would have gone for a full five-star rating if a few minor things like this had been adjusted in this collection.  The final scene made me wish for a sequel, too, given all of the hints in it about what was about to happen to the main character next.
Everyone needs peace and quiet sometimes. Paul thought he'd found it in "The Stranger in the Snow" until the snowstorm hit. His compassionate response to the visitor who appeared after it had been snowing for a while told me everything I needed to know about him. I enjoyed seeing how they interacted and quietly waited for an explanation of why someone would be out in a snowstorm alone without enough layers to keep them warm. The ending, too, was my favourite of all of the endings in this collection. I held my breath as it was announced and wished I could dive back into the opening scene to warn Paul about what was to come.
"The Gift" had such a cynical beginning that I honesty wasn't sure what to think of that protagonist. Was Arnold this grumpy about everything, or was it only Christmas that he thought had been irrevocably ruined? Luckily, I didn't have to wait long to get my answer, and when it arrived it softened my opinion of him immediately.  One never knows what others are quietly struggling with, and I wiped away a few tears as Arnold slowly shared more of his past with the audience. This was such a beautiful and heartwarming way to close off this collection.
Ghost Stories for Christmas made me smile.