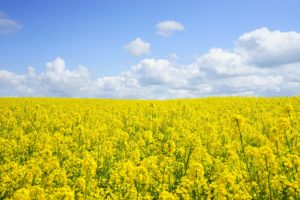 What's the first thing that comes to mind when you think about summer?
For me it's seasonal allergies.
Now don't get me wrong. There are many things I enjoy about this time of the year. Those of you who follow me on Twitter have probably noticed my tweets about enjoying the sunshine and all of the local fruits and vegetables that are ripening now. It's definitely not all bad news.
With that being said, this is still a pretty sniffly season for me. A field of flowers might look picturesque to someone who isn't allergic to them, but I'd sneeze my way through that sort of experience if I were to go wander around in that meadow. Breathing in that much pollen isn't exactly my idea of a good time.
Unfortunately, this has been a particularly bad year for my seasonal allergies so far. Whether it was the unusually warm periods of this past winter we had or some other factor, the plants in Ontario have been growing wildly since spring began.   I've been taking medication for my allergies as often as possible for the last couple of months, and I don't see that ending anytime soon.
The beautiful thing about mindfulness is how it changes my approach to these itchy, sneezy days.
Acknowledgement without Judgement
Right now my nose is congested, my eyes are itchy, and I have a mild headache.
It took me a long time to learn how to acknowledge the things my body was feeling without immediately putting negative labels on them and jumping to conclusions about what would happen with them next. Honestly, I didn't see how doing such a thing could possibly make a difference when I first heard of it.
The transition was so gradual that the only thing I can say about how it happened is that it started when I began to compare my assumptions about the future with what actually occurred.
Often, I was completely wrong about how a particular situation would turn out. A mild headache would fade away instead of becoming more painful. One particular itchy day didn't necessarily mean that the entire week would pass by under a haze of sneezing fits.
This isn't to say that acknowledging discomfort without jumping to conclusions is easy. There are still times I struggle with noticing molehills without assuming they're going to turn into mountains any second now, but the more I practice this the easier it does become.
No Such Thing as a Perfect Time of the Year
My seasonal allergies activate during some points of the year and (obviously) cause few if any symptoms during those times when it's cold and snowy outside.
Strawberries, one of my favourite foods, are in season and on sale at the grocery store from May to July. Other fruits and vegetables make appearances on my dinner plate when they're in season. I relish the chance to eat as much of them as I can before the local supplies of those crops end for the year. As grateful as I am for the opportunity to eat fresh produce year-round, there is something special about the taste of a fruit or vegetable that was grown much closer to home.
Thunderstorms, snowstorms, and other types of weather appear and disappear throughout the year. If I can stay home and watch them subtly – or not so subtly – change the landscape, I can find a lot of beauty in the ways they soften the edges of a building, illuminate the sky with a bolt of lightning,  or wash away the small bits of trash that accumulate in every city eventually.
There's no such thing as a perfect time of the year. Every season has its benefits and drawbacks. The more you can remain in the moment, the easier it is to see this.
This, too, Shall Pass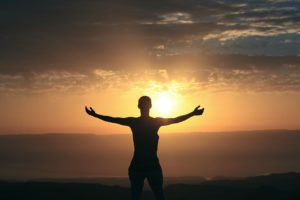 A few months ago, I was impatiently* awaiting the true beginning of spring. Toronto continued to receive snowstorms and cold weather long after the spring equinox had technically already occurred, and I was dreadfully tired of the short days and icy sidewalks.
Now that we've had a few days where the temperatures soared well into the 30s Celsius (90s Fahrenheit, for my American readers), it's getting a little more difficult to remember what those  chilly times were like back in April.
Sometimes the world seems to change both slowly and all at once.
But this, too, shall pass.
*See! I told you haven't completely mastered acknowledging sensations without judging them.
What helps you to remember to remain mindful? If you have seasonal allergies, how they are doing this year?