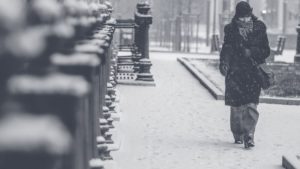 January is the quietest time of year in Ontario.
Life slows down here quickly once this month begins.Not only have the majority of the big winter holidays have passed by, the weather itself isn't terribly conducive to driving anywhere even before this pandemic began.
The overnight temperature can dip to -25 Celsius (-13 Fahrenheit) or colder, and we often have sleet and snowstorms taking turns making slippery messes of our roads and sidewalks.
There is nothing like sitting next to the windows in my home and watching the snow blanket everything on those days.
Sometimes it falls so quickly that buildings on the other side of the street have been transformed into dark blurs of colour behind a shimmery white veil of snow. Anything past that point is so smudged beyond recognition that I wouldn't know what it was at all if I weren't already familiar with it.
My mindful approach to these days is something that started early in life. Let's meander for a while.
Quiet Snow Days
These storms remind me of the years I spent growing up in a small town in Wyoming. Sometimes it snowed so heavily that all of the highways and other roads going into and out of town were closed. Residents were asked to only use local roads for emergencies, so almost everyone stayed home and waited out the weather.
I was a slim, petite kid. For a while I remained just barely light enough to walk on top of snowbanks that had partially melted and then frozen again.
Those moments were pure magic and required no thoughts flitting through my mind at all while I carefully walked without leaving a trace in the snow.
These snowy days of the present also remind me of a massive blizzard many of us on the eastern half of North America experienced in the late 1990s.
It happened as my family was moving across town, so I had many opportunities to see the snow as my parents were driving and in the yards of both our old and new homes.
My siblings and I had our typical two weeks off from school for the Christmas holidays that year. It began snowing heavily right before we were scheduled to return to school. For the next two weeks, school was cancelled one day after the next.
Sometimes it would be delayed by an hour or two before being cancelled. Other days were so stormy that everything was cancelled immediately. I remember waiting quietly for the news each morning with no expectations since our superintendent was normally so reticent to cancel school despite how much time it took the county to salt and plow all of the rural roads that would bring students back to class eventually.
Once the announcement was made, there was often a moment of silence as I wondered how I should fill my time on yet another unexpected day since we were between semesters and I'd finished the homework we'd been given before Christmas break began.
Then a few of the members of my household would either drive across town to our old house to take another van full of stuff to the new one (if the town roads were cleared and salted recently enough for this to be safe), go shovel off the roof,* or put a previous load of stuff away.
*It was an old, flat roof in some places. That snowstorm was so heavy and never-ending my parents were afraid the roof would be damaged if they didn't clear it off.
Snow Encourages Mindfulness
Even beyond these personal experiences, snow itself encourages silence. It dampens sound as explained in this post.
Have you ever taken an outdoor walk during or after a big snowstorm? Whether you live in a big city, a small town, or miles away from the nearest neighbour, the world becomes a much quieter place after a storm like that.
All of that snow acts like insulation. Everything from bird chirps to the roar of a river (if it hasn't already frozen over) to the rumble of a truck driving down the road is quieter than it normally would be.
Even the soft crunch of boots walking on fresh snow is quieter than normal.
If you've never experienced this sort of moment in time, I hope you'll have a chance to try it someday.
The world is such a quiet, solemn place then that I find it easy to walk without thinking. Nearly all of the familiar landmarks in my area will still be recognizable during or after a big storm, but their edges are softened and muted.
I live in an urban area where it is pretty safe to walk outside even during the heaviest snowstorms, so sometimes I'll go stand on the sidewalk (far away from the road) and watch the snow cling to everything from skyscrapers to my glasses.
In those moments, there is no need for words or thoughts. The snow will end when it ends. Until then, I sit indoors or stand outdoors and marvel at the feeling of snowflakes coating my hair, coat, boots, and every other surface they can possible reach in this corner of the world.
If you have snow where you live, how do you react to it?