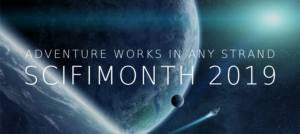 This month I'm participating in the Scifi Month challenge that was created by the bloggers at One More. Click on the link in that last sentence for more information or to sign up yourself. There is still time to pick a few of their prompts and join in if you're interested.
Today's prompt is "we come in peace." It was inspired by #WorldHelloDay, a secular holiday that encourages everyone to resolve conflict with good communication instead of by force. As soon as I began researching this holiday, I immediately thought of Star Trek. 
I will only be including references to series in this universe that are no longer releasing new episodes, but there are mild spoilers in this post. It simply wasn't possible to write this without them.
One of the things I've learned from watching various Star Trek series over the years is that a better world is possible. Conflicts can be resolved peacefully. It all starts with learning how to talk about what you want clearly and listening to what other people want, too.
Obviously, I can't possibly cover every single moment of conflict resolution in Star Trek in this post without turning this into a full-length novel. What I'm hoping to do is highlight my picks for some of the best moments where Star Trek characters used words, whether spoken, written, or sung, to find a solution that worked best for everyone.
Beware of reading anything after this sentence that if you haven't seen every old Star Trek episode yet and want to catch up without any hints about what is coming at all.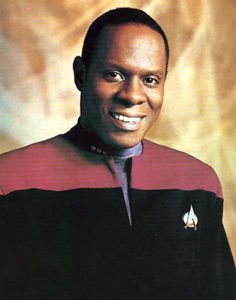 Captain Sisko's headshot. 
Series, Season, and Episode: Emissary from Season 1, episodes 1-2 of Star Trek: Deep Space Nine. Although, honestly, the entire Deep Space Nine series is an amazing example of how to resolve conflict, create peace, and get along with people who may have been your enemies just a short while ago.
The Conflict: Captain Benjamin Sisko, a single father and recent widower, was dismayed by the poor condition of the space station he has just arrived to command and of the disrespectful attitudes of some of his new crew. To make matters worse, the person who assigned this posting to him was the same man he blamed for the death of his wife. In these episodes he had to decide whether to stay with Starfleet or resign and find a quiet civilian life for him and his young son.
How It Was Resolved: He had deep conversations with others who helped him acknowledge his grief and see the professional challenges lying before him in a new light. I know this is kind of a vague answer, but seeing how Captain Sisko went from despondent to hopeful was incredible. This is something everyone should experience for themselves without knowing too much in advance about how it all worked out.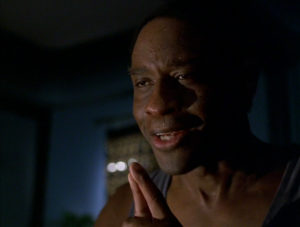 Tuvok suffering from pon farr.
Series, Season, and Episode: "Body and Soul" from season 7, espisode 7 of Star Trek: Voyager.
The Conflict: Tuvok was suffering from a chemical imbalance called pon farr that was common in among Vulcans. When the medical bay's first attempt at treatment failed, they had to resort to other ways to help Tuvok before his condition became fatal.
How It Was Resolved: Through an opera song (and then other remedies, of course).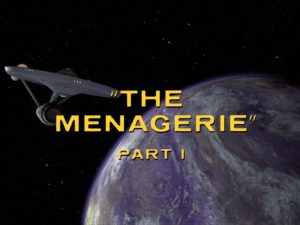 Series, Season, and Episode: "The Menagerie" from season 1, episodes 11 and 12 of Star Trek: The Original Series.
The Conflict: The Enterprise received a distress signal from ship that had been lost eighteen years ago. When they arrived at the planet where that ship had crash landed, several members their crew was kidnapped by the people living there.
How It Was Resolved: A trial, among other creative solutions. This episode won the Hugo Award for Best Dramatic Presentation in 1967. I don't want to give away any other plot twists, but I will say it was quite well done.
Data.
Series, Season, and Episode: "The Measure of a Man" from season 1, episode 9 of Star Trek: The Next Generation.
The Conflict: A cyberneticist named Commander Maddox wished to disassemble Data in order to understand how his artificial brain functions and reverse-engineer it to produce replicas of him for Star Fleet to use. Data refused to allow this. When he attempted to leave Star Fleet in order to save himself, a court case developed to determine whether androids should be given the same rights as humans.
How It Was Resolved: A trial. There are a lot of Star Trek episodes that involve trials, now that I think about it!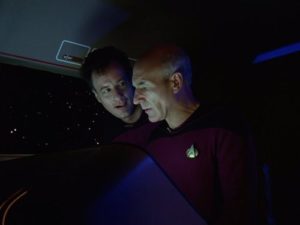 Q and Captain Picard.
Series, Season, and Episode: "Q Who" from season 2, episode 16 of Star Trek: The Next Generation.
The Conflict: There was once an omnipotent entity named Q who was so tired of seeing humans take good care of themselves that he decided to fling their spaceship 7,000 lightyears away just to see what happened next. The problem was, he threw them straight into the path of an enemy who was too powerful to defeat.
How It Was Resolved: Time travel and a large second helping of mischief. What made this episode especially great in my opinion was how much groundwork it set for future conflicts in the Star Trek universe. That's all I'll say about that!
If you're a fan of Star Trek, what are your favourite scenes or episodes from it?