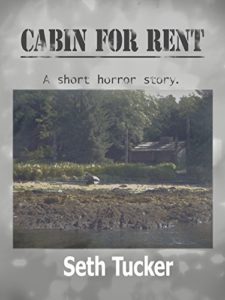 Title: Cabin for Rent – A Short Horror Story
Author: Seth Tucker
Publisher: Self-Published
Publication Date: February 19, 2018
Genres: Science Fiction, Horror, Contemporary
Length: 19 pages
Source: I received a free copy from the author.
Rating: 5 Stars
Blurb:
Learn about the macabre history of the cabin on the lake, as you take a boat ride to view this unique property. Despite its dark past and mysterious disappearances, this beautiful secluded get away will take your breath away and you'll never be able to leave.
Review:
If you love local legends, keep reading.
This is one of those short stories that works best if the reader knows as few details about it in advance, so I'm wording this review carefully.
One of the unique things about it that I can share is that it was framed as one half of a conversation. That is, you read Jimmy's responses but not the things his companion says that urge him to share the dark history of the property they're viewing on their boat ride.
Anyone reading this review also knows that local legends also play a role in what Jimmy has to say. He was someone who had deep roots in his small, rural community and knew all sorts of things that outsiders wouldn't have even thought to ask about. This gave the tales he told an extra layer of fright as I put all of the pieces together.
One of my favourite parts of the storyline was how well I got to know the unnamed visitor even thought he never had a single line of dialogue and the audience only had the faintest clues about his physical appearance. Jimmy's responses to the questions he asked were so detailed that none of this mattered. I knew the visitor exactly as well as I needed to in order to get sucked into their conversation and the hints about what was going on at that property.
While I did figure the ending out in advance, it didn't dampen my enthusiasm for it in any way. There were enough clues along the way that it wasn't so important for the audience to know what was going on as it was for the visitor to figure it all out.
Yes, this was firmly rooted in the horror genre, but it wasn't gory for anyone who might be wondering about that. It relied on psychological horror, a slowly growing sense of doom, and some strategically-placed hints to make the audience shudder instead. That's exactly what I seek out when I wander into this corner of the speculative fiction genre!
Cabin for Rent was an immensely satisfying read that I'd recommend to anyone who enjoys horror or dark science fiction.