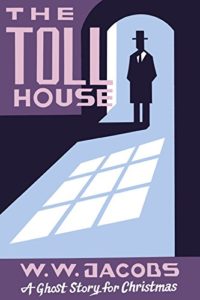 The telling or reading of ghost stories during the Christmas season was once a tradition in Victorian England. This series of books seeks to revive this tradition. This will be the last book in this series that I review unless my local library decides to buy more of them. Thank you for reading my reviews of them in 2020, 2021, and 2022. 
Title: The Toll House – A Ghost Story for Christmas (Seth's Christmas Ghost Stories)
Author: W. W. Jacobs
Publisher: Biblioasis
Publication Date: 1907 and October 31, 2017
Genres: Paranormal, Historical
Length: 42 pages
Source: I borrowed it from the library.
Rating: 3 Stars
Blurb:
The Toll-House has a long and terrible history as a place of death. But Jack Barnes doesn't believe in spirits. His travelling companions, Messrs. Meagle, Lester, and White, wager that he might be convinced otherwise if they all spend a night together in the house. Four men go in, but will four come out?
Review:
Are ghosts real? Is that your final answer?
The beauty of this story is that how little the initial reactions of the reader to the existence (or non-existence) of the spirits of dead people make a difference. Whether you're convinced one way, the other, or in no particular way at all, there is food for thought here for every reader. It takes creativity to write for so many different audiences simultaneously, and I commend the author for doing so.
What lead me to go with a three star rating had to do with the lack of character development. Barnes, Meagle, Lester, and White were scarcely described at all, and what little I learned about them in the beginning honestly didn't seem to matter at all by the end. They could have been replaced by four other characters from any corner of the globe and the plot would have played out exactly the same. While I certainly wouldn't expect something so plot-driven to dive deeply into characterization or character development, it was disappointing to have such forgettable protagonists in an otherwise thought-provoking adventure.
The plot itself was a clever one, however. I found myself changing my opinion of what was really happening to the characters during the course of the evening as new information was revealed and the stakes of the dare the characters agreed to grew even higher. There were so many different ways to interpret each clue that I could have used most of them to argue for and against just about any perspective.
Anyone who loves open-ended stories should give The Toll House a read.