Vintage Science Fiction month takes place every January, and has a few guidelines:
 – read, watch, listen to, or experience something science fiction / fantasy that was created in 1979 or earlier
 – talk about it online sometime in January
 – have fun
If any of my readers are interested in participating\ use the hashtag #VintageSciFiMonth or tag @VintageSciFi_ or @redhead5318 on Twitter if you'd like your posts to be included in the official retweets and roundups.  
Thank you to Berthold Gambrel for recommending this book to me! 
Title: In a Glass Darkly
Author: Joseph Sheridan Le Fanu
Publisher: Richard Bentley & Son (original publisher) and Duke Classics (the publisher of the reprinted volume I read).
Publication Date: 1872
Genres: Science Fiction, Fantasy, LGBTQ, Historical
Length: 169 pages
Source: I borrowed it from the library.
Rating: 4 Stars
Blurb:
In a Glass Darkly collects together five short stories from gothic horror and mystery writer Sheridan Le Fanu. The book, published in 1872 a year before Le Fanu's death, is named from a passage in Corinthians which speaks of humankind perceiving the world "through a glass darkly." The stories are told from the posthumous writings of an occult detective named Dr Martin Hesselius. In Green Tea a clergyman is being driven mad by an evil demon that takes the ephemeral form of a monkey, but is unseen by others as it burdens the victim's mind with psychological torment. In The Familiar, revised from Le Fanu's The Watcher of 1851, a sea captain is stalked by a dwarf, "The Watcher." Is this strange character from captain's past? In Mr Justice Harbottle a merciless court judge is attacked by vengeful spirits, dreaming he is sentenced to death by a horrific version of himself. The story was revised from 1853's An Account of Some Strange Disturbances in Aungier Street. In The Room in the Dragon Volant, a notable mystery which includes a premature burial theme, an innocent young Englishman in France tries to rescue a mysterious countess from her unbearable situation. Lastly, Carmilla tells the tale of a lesbian vampire. It was a huge influence on Bram Stoker's writing of Dracula and the basis for the films Vampyr in 1932 and The Vampire Lovers in 1970.
Review:
Content warning: demonic possession, stalking, murder, beheading (of a monster), minor drug use, and a few brief references to blood.  I will briefly discuss the demonic possession and stalking in my review.
If you like genre mash-ups that defy the reader's expectations, keep reading.
The blurb gave a great overview of each of the five stories in this collection, so I'm going to use my review space to share my impressions of them a bit more casually than I would generally do. Somehow that feels right for this book.
I was a preacher's kid growing up, so "Green Tea" grabbed my attention immediately. Clergymen and their families are exposed to portions of other people's lives that the general public often knows little to nothing about. No, my family was never haunted by a monkey-shaped demon like the poor Reverend Jennings was, but I was intrigued by the difference between what people want others to think their lives are like versus what's actually going on behind closed doors. This tale captured the sometimes jarring experience of moving back and forth between the two quite well. I thought it also well at explaining why secrets can be so corrosive for a person's mental wellbeing, especially when they've convinced themselves that they will be rejected, or worse, if anyone finds out the truth about them.
One of the things I mulled about while reading "The Familiar" was how blurry the lines were between science fiction, fantasy, horror, and other speculative fiction genres in the 1800s. This collection fit into all of those categories simultaneously in ways that are unusual when compared to how a similar story about a dwarf stalking a sea captain would probably be written and marketed today. I like stories that blur these lines, but this particular one was hard to get into because of how much time was spent discussing everything other than the sea captain's adventures. If only there had been more details about the dwarf and why he was following the captain around.
"Mr. Justice Harbottle" made me think of the people in this world who have purposefully harmed others and never faced the consequences of those actions. Sometimes it can feel like justice will never be served in those cases. That made this an even more satisfying read. It was interesting to me to compare this  storyline to what happened in Charles Dickens' "A Christmas Carol." If you haven't read that particular Dickens' tale yet, definitely do check it out before reading this book. There's not much else I can say about this one without giving away spoilers as the plot was pretty quickly paced and straightforward for this era.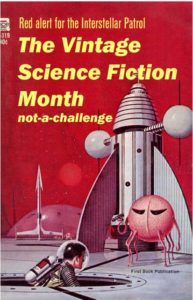 Pinning down the genre of 'The Room in the Dragon Volant" was tricky. It dabbled in the mystery, adventure, horror,  thriller, and science fiction genres without ever fully committing to any of them. This is one of the reasons why I like reading speculative fiction from the 1800s so much. Just about anything could and often did pop up in a "science fiction" story back then. Authors didn't seem to be as concerned with following the rules of their genre back then as many of them are today. With that being said, I struggled to get into this particular tale because of how much more time it spent jumping around from one idea to the next instead of focusing on character development. I never reached the point where I'd feel comfortable describing the personalities of the main characters in anything but the simplest details like what their professions were.
My favorite instalment in this book was "Carmilla," which, according to Wikipedia, was Bram Stoker's inspiration for writing "Dracula." The main character, Laura, was a young woman whose loving father had given her a safe but extremely sheltered life in a rural setting up until this point. She was naive about the outside world and incredibly excited to meet anyone new who crossed her path. When she reacted romantically to another woman, she didn't have a word to describe her feelings. I thought it was fascinating to see how she handled these moments and what she thought was happening during them. Her father's reactions to the rumours that were spreading around about various young women in the community who were suddenly dropping dead one after the next also piqued my interest. He blamed the fear surrounding those bizarre deaths on superstition and was far less interested in seeing if there were any specks of truth to the wild stories being passed around than I would have been. It made me wonder if he was in some ways even more sheltered than Laura was given how much faster she was to accept that something odd was happening.
In a Glass Darkly was a thought-provoking read. I'm glad I gave it a try for Vintage Science Fiction Month.