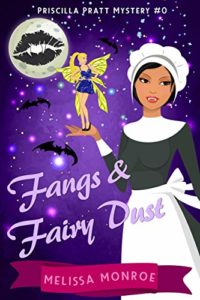 Title: Fangs & Fairy Dust
Author: Melissa Monroe
Publisher: Self-Published
Publication Date: October 14, 2020
Genres: Fantasy, Mystery, Contemporary, Historical
Length: 63 pages
Source: I received a free copy from the author.
Rating: 3 Stars
Blurb:
A vampire baker —before she opened shop — sinks her teeth into a local mystery.
If you love paranormal witch cozy mysteries, you'll love this book!
Review:
Content warning: kidnapping. I will not be discussing it in my review.
Not every vampire is a villain.
Most of the vampire fiction I read is firmly rooted in the horror genre, so it was refreshing to read about a vampire who had a strict code of ethics and stuck to it. I didn't always agree with the decisions Priscilla, the main character, made, but I knew she'd stick to her deeply-held beliefs about what was right and wrong. She was principled like that, and I admired her for it.
There wasn't much character development in this tale at all. I understand that this was the beginning of a new series, but I still would have liked to see Priscilla change in some way as a result of her earliest experiences with her fairy godmother. She had plenty of opportunities to do so. Seeing her end up the same person as she was in the beginning dampened my enthusiasm to keep going with her adventures.
It was nice to see a mystery wrapped up so quickly. Priscilla wasted no time in trying to figure out what was really happening with it. No, I can't go into details about what was going on there without giving away spoilers due to the short length of this story and what a small role it played in the plot, but I can say that I appreciated her determination to get to the truth no matter what.
I also would have liked to see more attention paid to the plot development. Once again, I wouldn't expect a novella to be as well-developed as something full length, but there was so much more the author could have done with a vampire who remembered life in the 1600s and could tell people about it in the present day.
The punchy dialogue kept making me smile. There were some clever one liners thrown about, and they were pretty evenly distributed among the main characters. It's nice when the spotlight can be shared among multiple characters like that. No, the dialogue didn't match the way people actually spoke in 1665, but I assumed Priscilla translated all of the thees and thous into modern, conversational English for the sake of her twenty-first companion who was hearing about the beginning of her relationship with her fairy godmother for the first time.
Fangs & Fairy Dust was a quick, lighthearted read that I'd recommend to anyone who is in the mood for such a thing.