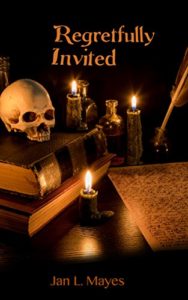 Title: Regretfully Invited: 13 Short Horror Stories
Author: Jan L. Mayes
Publisher: Self-Published
Publication Date: 2018
Genres: Science Fiction, Horror, Paranormal, Historical, Contemporary
Length: 86 pages
Source: I received a free copy from Jan.
Rating: 3.5 Stars
Blurb:
Find out the answer to this question and more with this 13 story bundle of creepy, horror micro-stories and flash fiction.
No zombies, vampires, or werewolves.
Delve into disturbingly haunting quick tales of murder, madness, and mayhem. Contained in a menacing atmosphere where all is not right in the world.
Included in this bundle:
Double Vision
Based on real events, where midnight visitors could be sinister or a quirk of vision.
Tubsy & The Trauma of Oz
Based on real life hideously shocking consequences of letting a girl's favourite dolly perform in the school play.
The Grave of Gelert
Based on a visit to the real Gelert's Grave in Wales, a tribute to the memory of when hasty deadly action brought sorrow.
Mary Annette
Based on the most terrifying teleporting real life marionette ever rejected by a child.
Tinnitus Study 421: Rotary
A 50 word flash fiction experiment that inspired the optimistic psychopath Doctor Bell.
Regretfully Invited
When an audiologist knows too much about Doctor Bell's tinnitus cure experiments, he takes an unorthodox approach to eliminating them as a witness.
Disembodied
Inspired by real events where left feet keep washing ashore in the Pacific Northwest, but police have no idea who they belong to or where they came from.
Dreams of Debbie
Based on real events after the death of a sister, when a dream may be more than a dream.
Eye Eclipse
A father uses a rare solar eclipse for revenge, inspired by real events when a bystander videos a fatal accident instead of trying to save the child.
Ladykiller
Based on nightmares of an alien apocalypse, where oversleeping has deadly consequences.
Dad's Death Bells
Based on real events after the death of a father, who might have ghosted back to give a murderous message or last good-bye.
Cofveve Pie
A Mom's desperate plan to prevent her daughter's wedding by serving the fiancé a "special dessert", inspired by real events and the mystery of what cofveve means.
Napkins
Inspired by a big brother who decides to take things into his own hands to protect his sister from Mother's abuse, but things don't turn out exactly as planned.
Review:
Book content warning: Murder, torture, cancer, and death of a pet. 
Sometimes it only takes a moment for someone's destiny to change.
Since I wasn't familiar with the legend that "The Grave of Gelert" was based on, I went into it with no pre-conceived ideas of what might happen next. This was one of the shortest tales in this collection, and yet it was also the most satisfying. It had a clear beginning, middle, and ending. The fact that the dog, Gelert, was the only character whose named was mentioned only made me more interested in finding out what happened after the king who owned him noticed that the infant prince was missing.
One of the things I noticed happening over and over again in this anthology were that many stories spent precious little time explaining what was happening in them. While I do understand that flash fiction and very short stories in general need to get straight to the point in order to stick to its word counts, there were several times when I had trouble understanding what happened in a scene or what an ending was supposed to mean because of how briefly everything was described. I loved the concepts behind all of them, but this confusion was what ultimately lead me to choose a lower rating than I would have otherwise gone with. This was something that was most noticeable with "Tinnutitus Study 421: Rotary" and "Tubsy & The Trauma of Oz."
My favourite tale in this collection was "Dreams of Debbie." It happened shortly after a woman named Debbie died from an aggressive form of breast cancer. Her grieving relatives were struggling to come to terms with her untimely death, and their healing process was not going well. I deeply enjoyed seeing how the plot developed from this point. It was simultaneously satisfying as well as something that made me desperately wish for a sequel.
If you love being scared senseless, Regretfully Invited: 13 Short Horror Stories may be the perfect book for you.