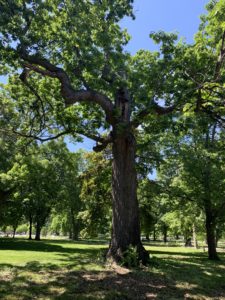 Each month I share photos from one of the parks in Toronto to show my readers what our landscape looks like throughout the year. This is the fifth instalment of this series.
Click on February, March, April, and May to read the earlier posts. It was 20 Celsius (68 Fahrenheit) and sunny this time which I think is the perfect weather for a park visit.
June is a transitional month that includes large temperature swings. The early part of it can see high temperature of 10 to 15 Celsius (55 to 60 Fahrenheit), while a few days to weeks later the hottest point of the day could leap to 35 to 40 Celsius (95 to 104 Fahrenheit).
That is to say, keep your shorts and sandals handy in June….but don't put warmer clothing into storage quite yet! The nights can still be chilly, and this can be a stormy time of year as well.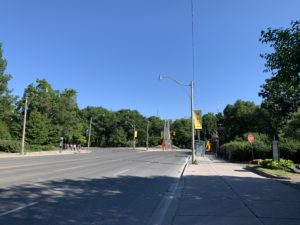 Let's take a look at the park from a distance. Isn't it green and vibrant? Every tree that survived the winter has sprouted its full complement of leaves now. The effects of all of that greenery is stunning.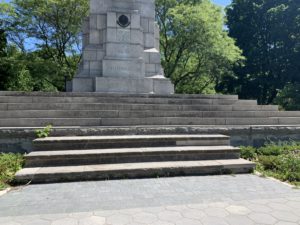 All of the bushes, trees, and other plants around the statue at the front of the park are green and vibrant.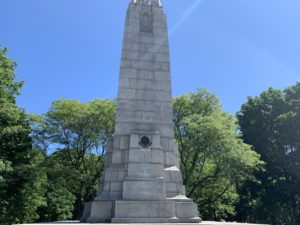 There was a time when you could see through to other parts of the park from this vantage point. That time has passed for now.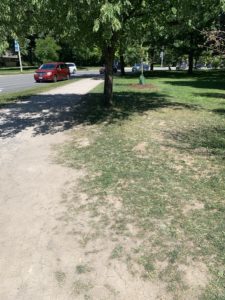 The running trail is dustier now then it was in May. See also: my new shoes that got covered in dust while I was exercising there the other day. Luckily, they wiped clean again easily.
This trail is otherwise about the same as last month. Barring thunderstorms, I expect it to remain firm and dry until the rainy autumn begins. This is even more true this year due to the fact that the longterm prediction for Ontario's summer weather is calling for less rain than usual.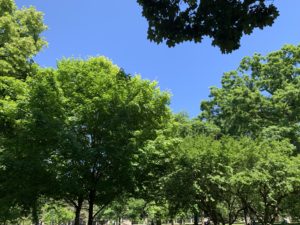 I think you all knew this shot was coming. There's nothing like standing underneath a canopy of thick, healthy leaves and hearing them rustle in the wind.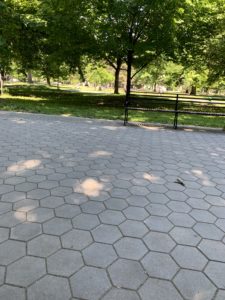 And another sun-dappled sidewalk. I'm so grateful for the massive trees that provide all of this shade. The rest of my summer visits will probably happen early or late in the day to avoid the full brunt of the midday heat and humidity, but even then standing in the shade makes things much more comfortable outdoors.
Sadly, not every tree survived the winter. One huge change I noticed between May and June is that city workers have finally cut down the dead trees and carted away all of the broken branches I shared in previous posts in this series. That was a welcome surprise!
But our two tree friends who were badly damaged last winter are doing incredibly well.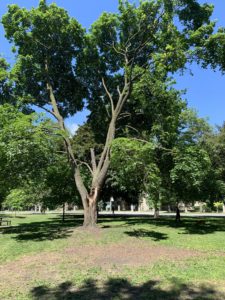 Seeing all of the healthy leaves they've sprouted this season gives me a lot of hope for their longterm survival.
The park has been quite busy this month in general. While restrictions on what people can do continue to be lifted, folks seem to be spending more time outdoors this year due to all of the news reports we've heard about it being safer to spend time outdoors than in stores or other places where everyone is constantly breathing the same air.
I do expect park activity to slow down as it gets hotter and more humid outside, but it's quite possible that won't happen. So much depends on if the rate of new Covid-19 cases continues to drop in Ontario and which entertainment venues, if any, will be deemed safe to reopen before autumn arrives.
Stay safe, friends! I look forward to showing you Toronto in July next month.