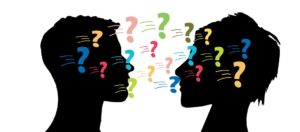 Years ago, I occasionally answered reader questions about all sorts of topics. This is something I originally began doing because a friend of mine started doing it first.
The post that began this series on his site as well as some of the entries in it are no longer online so far as I can tell, but reading his answers to all of the questions people have sent in over the years has been fascinating.
My friend blogs about all sorts of topics: his chronic health issues, raising a (now-adult) child who has Down syndrome, photography, memories of his youth, U.S. politics, and the many theological and other changes his family has been through over the decades. The questions his followers send to him generally fit into one of these buckets, although sometimes people throw wild cards into the mix that probe parts of his mind he generally doesn't share with the world.
Reason #1
One of the things I really like about my friend is how open he is to discussing just about anything with his readers. While I completely respect the wishes of some bloggers to stick to specific topics or to keep a firm line drawn between their online and offline selves, I think it's interesting when they're willing to open up to their audiences and talk about random things occasionally.  This is the first reason why I'm considering answering questions again.
Reason #2
This site has grown and changed so much since the last question in my series was published in 2015.
I know that most of my current readers weren't following this site four years ago. With all of the new followers who have shown up over the last six months to a year, answering questions you come up with instead of what I think my readers are most interested in checking out might be a fun way for you to get to know me a little better.
What could we talk about?
Meditation (and how not to fall asleep during it)
Reading habits
Genres I love like science fiction
Genres I generally avoid and why
Stories from my life as a preacher's kid
Life as an immigrant and dual-citizen
The writing process
Self-publishing
Demisexuality
Bisexuality
Polyamory
Fitness for people who aren't athletic or good at team sports
Or anything else you've wondered about while reading my posts.
I'm a little nervous about sharing the link to some of my old reader question posts because of how much my writing style and choice of topics have evolved over the years, but click here or do a search for the term mailbag if you want to look through what people have asked in the past.
Reason #3
Change can be a good thing. As much as I want to go back and revamp some of my old posts, I'm proud of how willing I've always been to try new things and see what works. There have been times when certain types of posts flopped when I expected them to succeed. At other times, a post I didn't think would do well still continues to draw in readers years later.
The Internet can be an unpredictable place at times. I'm ready to roll the dice again and see who is interested in reviving this series with me.
Respond
If you have questions, I'll have answers. Leave them as a response to this post, fill out the contact form, or email them to interviews AT lydiaschoch DOT com.