Hosted by Long and Short Reviews.
Click here to read everyone else's replies to this week's question and to read everyone else's replies to this week's question and here to see the full list of topics for the year.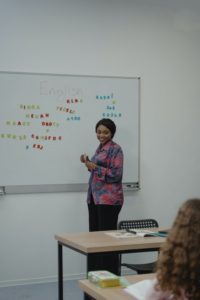 I don't think anyone will be surprised by this answer, but English was my favourite subject in school.
My family spoke Standard English at home, and my parents would lovingly correct us if we use the wrong verb form, misused punctuation, or made some other mistake. (Rarely, they still do!) This meant that the grammar, spelling, and punctuation portions of this class were intuitive to me 99% of the time because they'd been reinforced and taught at home for my entire life.
I loved reading in general, so the literature portion of this class was easy and enjoyable for me as well. I was the sort of student who tried to read every story in my textbook each year and was always slightly disappointed by how many I liked that we were never formally assigned.
History was a class I liked almost as much as English most years, although I preferred reading about it on my own on school breaks so I could focus on topics I really enjoyed such as the lives of ordinary people in various eras. It was interesting to see the patterns in history as well as to learn how so many different people have fought to make our world a kinder and better place.