No, this is not the beginning of a fairy tale. It really happened years ago when I was a teenager, and I thought it would be an amusing story to share with you as the holiday season ramps up.
My mom comes from a fairly large extended family. Both of her parents had many siblings, so both sides of her family tree used to have large potluck dinners every December to give everyone a chance to spend time together over the holidays.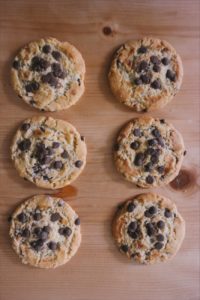 My maternal grandmother's side of the family included a White Elephant gift exchange in their gigantic Christmas get-together. Every family unit – which was roughly defined as a couple (or single person) and any children under the age of 20 they may have – was asked to bring one wrapped gift that would appeal to an adult of any age.
One year, mom had no idea what to bring for the gift exchange. What she did have was a little extra time on her hands and an empty decorated tin from a previous Christmas. She whipped up a quick batch of chocolate chip cookies and put as many of them as would fit into the tin. It was such a pretty box that she didn't bother wrapping it in festive paper.
In a white elephant gift exchange, a member from each family is allowed to choose one wrapped present. Everyone then sat in a semicircle of chairs. One by one, they opened their gift and then decided whether they wanted to keep it or trade it for one of the other opened presents.
This was a decision that could be made only once. After your turn ended, you'd either hold onto your gift for good or have it "stolen" by someone further down the line who preferred it to whatever it was they had unwrapped.
When mom's gift was opened by a cousin, he grinned. The next person to open their gift quickly "stole" the cookies from the first person.
This happened a few different times throughout the course of the game. I don't remember who finally ended up with them, but it was funny to see adults become so playfully competitive over a tin of cookies. (Granted, they were delicious cookies!)
While I haven't participated in a gift exchange in many years, I think of this story every December.
Sometimes the best gifts really are the simplest ones.
If you'd like to make these cookies for yourself, here is the recipe. It's every bit as delicious as it sounds, and the cookies are quite easy to make as well.
Chocolate Chip Cookies
1 1/3 cups Crisco (or margarine)
2 cups sugar
1 cup brown sugar
4 eggs
2 teaspoon baking soda
2 teaspoons salt
4 teaspoons vanilla
4 1/2 cups flour
1 package chocolate chips (about 340 grams or 12 ounces)
Directions
Mix the Crisco, sugar, brown sugar, and eggs  together until fluffy.
Add the baking soda, salt, and vanilla. Mix well.
Add the flour in one cup at a time. Mix well.
Stir in the chocolate chips.
Spoon the dough onto lightly greased cookie sheets.
Bake at 350 Fahrenheit for 6-7 minutes or until golden brown.
Makes about 6 dozen cookies.