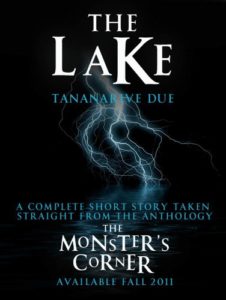 Title: The Lake
Author: Tananarive Due
Publisher: St. Martin's Griffin
Publication Date: August 11, 2011
Genres: Science Fiction, Horror, Contemporary
Length: 21 pages
Source: I received a free copy from the author.
Rating: 4 Stars
Blurb:
A free short story taken straight from the pages of THE MONSTER'S CORNER, an all original anthology from some of today's hottest supernatural writers, featuring stories from the monster's point of view.
In THE LAKE, Abbie LeFleur, a lifetime Bostonian, who hides her scales, webbed feet, and an incredible hunger for people, has relocated to Graceville to start her life anew when she sets her eyes on a young student in her English class.
Review:
Every town has its own unique way of doing things.
Abbie's character development was well done, especially given the short length of this piece. I loved picking out new clues about how she was changing as she adjusted to her new job and home. Sometimes they were subtle, but they always made sense given who she'd been in the beginning.
There was one small thing I never understood about this story, and it had to do with the way the citizens of Graceville reacted to a new person moving there. In my experience, secrets are nearly always quickly exposed in small towns whether they belong to the newcomer or those who were born there. It didn't make sense to me that Abbie could have lived there for as long as she did without anyone stopping by to welcome her and give her advice. Whether or not this character would heed their warning was an entirely different manner, but I struggled to understand why it was never given in the first place.
The ending made me shudder. While this was firmly rooted in the horror genre, but it wasn't bloody or gory at all. Instead, the author relied on hints about what might happen next to frighten her audience. I love this sort of horror and had a wonderful time imagining what a sequel might be like. If the author ever writes it, I'll read it for sure!
The Lake is a solid summer read for anyone who enjoys psychological horror.