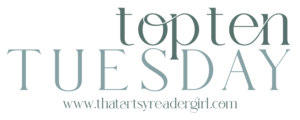 Hosted by That Artsy Reader Girl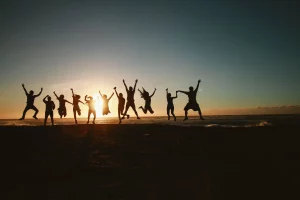 While I currently have no plans to meet any of these bookish people,  it would be cool if that changed someday.
My prediction is that a lot of answers will probably be of famous authors and such. While there will be a few of those authors on my list, most of my answers will be of non-famous people I know whose online personas are kind and intelligent.
Honestly, who wouldn't want to spend time with someone like that? (I'm sure they're just as wonderful in person, too!)
1. Top Ten Tuesday Bloggers
It would be fun to meet some of the friendly Top Ten Tuesday bloggers I chat with throughout the week.  I don't want to put anyone on the spot or make anyone feel overlooked by mentioning specific names, but let me know in advance if you're open to this and have plans to visit Toronto in the future. We could snack on Beaver Tails* or check out the free bookish museum at the Toronto Reference Library or something.
*This is a Canadian pastry that is large and flat like a beaver's tale. They have several delicious vegan options, too, for plant-based friends.
He's a fellow author and book reviewer I met on Twitter (before it imploded, of course). This will be a pattern for my next several answers because I am a creature of habit, so assume someone is a writer friend and kindred spirit from social media until I say otherwise.
Berthold and I have remarkably similar tastes in science fiction and he has a great sense of humour.
I'd love to talk about books and knitting with her among many other topics.
He's the sort of person you can talk about anything with. I can be a little shy sometimes, but I never feel shy around him. He's so warm and welcoming to everyone.
5. Shykia Bell 
She's only online in spurts, but I love her creativity and calm personality. Those are both excellent character traits.
Here is where I break the Writer Friends of Twitter (TM)  streak. Yes, he's a writer friend, but I met him through Berthold Gambrel.
Patrick has a deep and methodical love for books. I've enjoyed his recommendations  over the years and hearing stories about how he's filling his time with all sorts of cool volunteer and writing projects now that he's retired.
7. Rivers Solomon
I still think about her characters in "The Deep" and would love to ask her all about them.
8. Neil Gaiman 
He seems like a cool guy.
9. Andy Weir
I want to hear about what science fiction adventure he'll be writing next!
10. <Insert People I've Missed Here>
Every time I make one of these lists, I worry about accidentally leaving folks out whom I would have happily otherwise included. Therefore, I will leave a space for them at the end of this post. You are included.