Hosted by That Artsy Reader Girl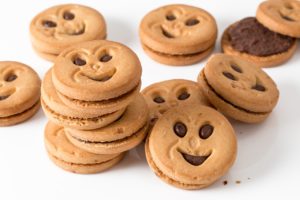 This week's prompt was a little ambiguous.
Should I be mentioning lighthearted stories in general even if they touch on sad topics at times?
What about collections of true humorous stories?
Will some people share joke books?
How will everyone else interpret it?
Will Canada ever sell Jolly Jammers and, if so, would they be dairy-free and would I like them? I didn't even know such a thing existed until I went searching for stock photos of happy faces. These cookies definitely do have happy little faces for sure.
I wish we could all have a quick meeting to see what everyone's responses would be like. Since that isn't possible, I went with a mixture of books that I found uplifting and amusing.
1. The Rosie Project by Graeme Simsion
2. Good Omens: The Nice and Accurate Prophecies of Agnes Nutter, Witch by Terry Pratchett
3. Hyperbole and a Half: Unfortunate Situations, Flawed Coping Mechanisms, Mayhem, and Other Things That Happened by Allie Brosh
4. Anne of Green Gables by L.M. Montgomery
5. Lamb: The Gospel According to Biff, Christ's Childhood Pal by Christopher Moore
6. The Hitchhiker's Guide to the Galaxy by Douglas Adams
7.Is Everyone Hanging Out Without Me? (And Other Concerns)  by Mindy Kaling
8. The Princess Bride by William Goldman
9. Elsewhere by Gabrielle Zevin
10. The Canterville Ghost by Oscar Wilde
I will be blogging a review of The Canterville Ghost in January for Vintage Science Fiction Month, so stay tuned!