Hosted by Long and Short Reviews.
Click here to read everyone else's replies to this week's question and here to see the full list of topics for the year.
While I'm not quite as deeply introverted as I was as a child, I still relish time alone to do quiet activities. Here are some of the things I do to recharge.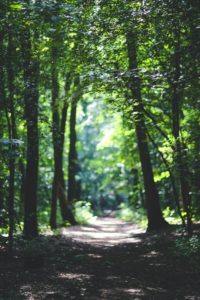 Nature Walks
There's something incredibly soothing about walking in all sorts of natural settings, from forests to beaches to mountains and more.
This is something I can do with certain people as long as they're not too talkative during the walk. Occasional bits of conversation are fine when necessary, but I find nature walks best when we can mostly walk in companionable silence and listen to the beautiful sounds of nature.
Time Alone
Other than the many usual sources of stress we all went through during the Covid-19 pandemic, one of the toughest parts of the past eighteen months has been how little time alone I've had.
This was especially true during the winter when Toronto was under a strict Stay at Home order and it was too cold to take a long walk outside. I love my spouse dearly, but I also desperately needed alone time during those long months spent at home!
Jigsaw and Sudoku Puzzles
I'll dabble in other sorts of puzzles, too, but these two are my favourite kinds of puzzles.
It's nice to sit quietly and think about something that is guaranteed to have an answer.
The satisfaction of figuring it out makes me quite happy.
Reading
This last answer is sort of obvious for us bookish folks, but some books are wonderful for recharging after I've done a lot of socializing.
Rereading old favourite stories is a particularly good way for me to recharge, especially if they have lighthearted subject matter.