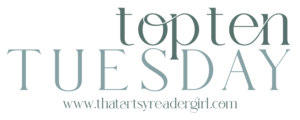 Hosted by That Artsy Reader Girl
I don't own a lot of books due to how amazing my local public library is, but here are some I loved that I do own in ebook form.
If I've written a review for a particular book, the link will take you to my review of it. In all other cases, it will go to Goodreads instead.
1. Becoming by Michelle Obama
2. My Evil Mother by Margaret Atwood
3. The Visitor by Mark Lawrence
4. The Reluctant Familiar's Guide to Christmas Tree Defence by Bethany Hoeflich
5. Safer at Home by Zoe Cannon
6. Boo and the Boy by Wayne Barrett
7. 1NG4 by Berthold Gambrel
8. The Testaments by Margaret Atwood
9. The Paying Guests by Sarah Waters
How many of you also have wonderful local libraries? I hope all of you can say yes to that question!