Hosted by That Artsy Reader Girl
I'm the sort of reader who can find something to enjoy in many different genres and subgenres.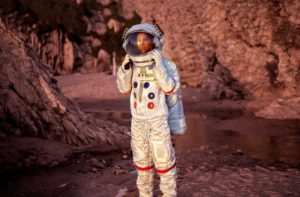 To be perfectly honest with you, I was a little intimidated by hard science fiction when I first encountered it because I didn't know how much the authors who wrote it would expect their readers to know about the various scientific disciplines and theories they were focused on.
Most of the stories I'd read up until that point were much more fanciful, but I soon found plenty of books in this subgenre that I loved. Here are some of my recommendations for anyone who already loves hard science fiction or who would like to give it a try.
1. Wool by Hugh Howey
What I Loved About It:  The world building, especially when it came to explaining how large groups of humans could permanently live indoors in silos that provided for all of their needs.
2. Red Mars by Kim Stanley Robinson
What I Loved About It: The descriptions of how Mars was terraformed over the course of many years!
3. Project Hail Mary by Andy Weir (My review)
What I Loved About It: It's difficult to discuss my favourite portions of this book without giving away spoilers. I did adore the first few scenes that gave a realistic depiction of how weak someone would be after waking up from a long, artificially-induced sleep as well as how long it would take them to recover from it and start building enough muscle to look after themselves again.
4. A Canticle for Leibowitz by Walter M. Miller, Jr
What I Loved About It: Humanity's painfully slow rediscovery of critical knowledge after a cataclysmic event. There are so many other things I'd gush about if I could, but like Project Hail Mary this is something that works best if you know as little about the storyline as possible in advance.
What else would you add to this list? Most of the ones I thought of are older, and I wish I could remember more of the ones I've enjoyed that are on the tip of my tongue.  I'm sure there are many other wonderful hard science fiction tales out there.